Hearty Malt Beer and Mushroom Ragout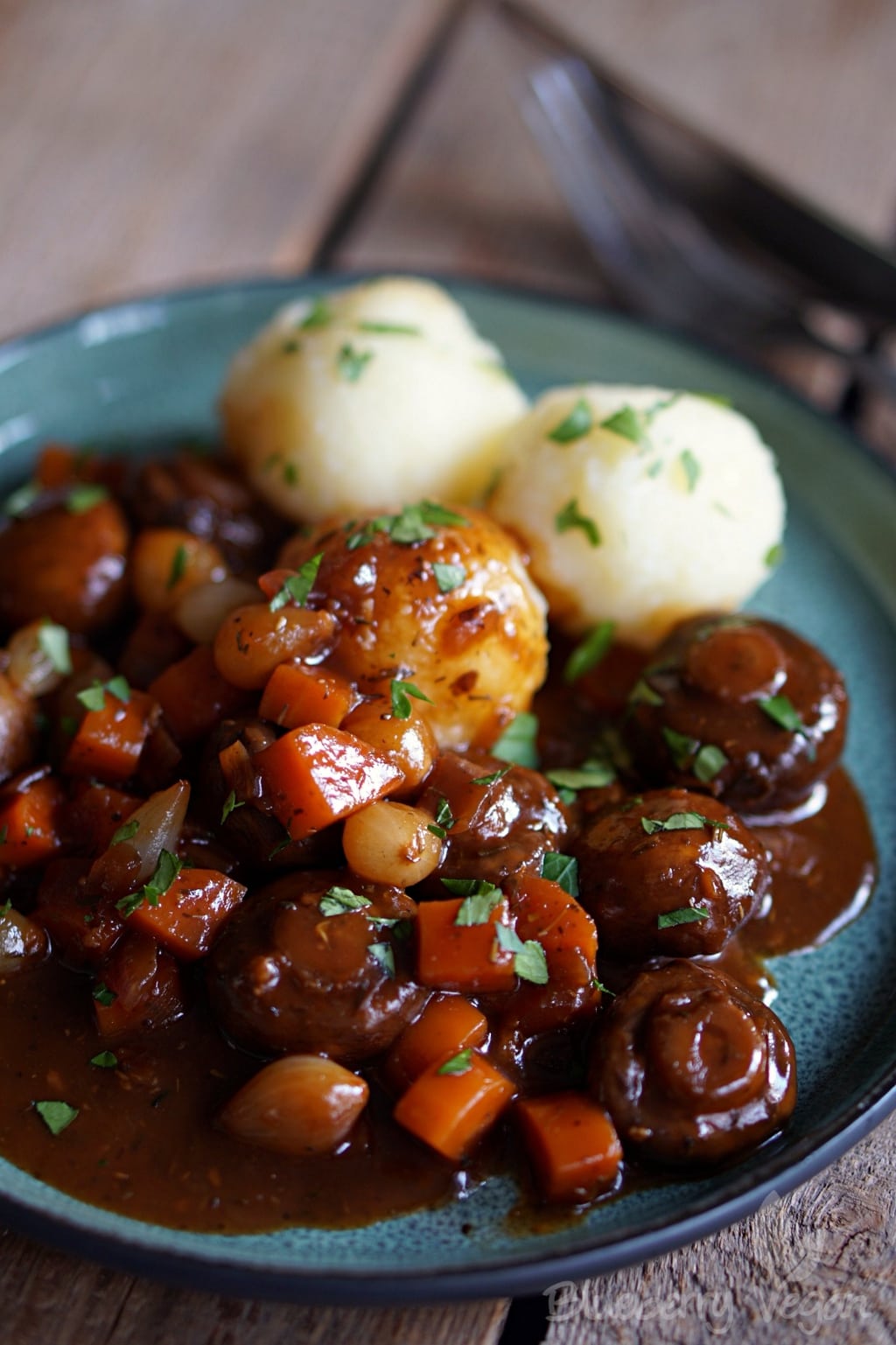 500 g (17.6 oz) brown, small mushrooms
2 carrots
1 small red onion
1 clove of garlic
100 g (3.5 oz) pickled onions
1 tbsp oil
1 tbsp tomato paste
1 heaped tsp flour
200 ml ( 1 cup minus 2 tbsp) malt beer
100 ml (1/2 cup minus 2 tbsp) of water
1 level teaspoon veggie stock paste
2 tbsp balsamic vinegar
1 tbsp soy sauce
1 tsp Italian herbs, dried
1/2 tsp thyme, dried
pepper
1/2 pk. ready to use dumpling dough
Clean the mushrooms and shorten the stems. Peel the carrots, quarter them lengthways and cut into pieces. Finely dice the onion. Press the garlic and drain and rinse the pickled onions.
Heat the oil in a large saucepan and fry the mushrooms and diced carrots in it for about 5 minutes. Add onion and garlic and sauté briefly. Then add the pickled onions and stir in the tomato paste and sauté too.
Dust with flour, stir briefly and deglaze with malt beer and water. Add veggie stock paste, balsamic vinegar, soy sauce, herbs and pepper and stir thoroughly. Let the ragout simmer for 40 minutes without a lid.
Meanwhile prepare the dumplings. To do this, bring salted water to the boil in a large saucepan and then turn the stove down so that the water no longer boils.
Between the palms of your hands shape the dough into small dumplings and place in the hot, salted water. Let it steep for about 20 minutes. Do not boil or they will fall apart.
If necessary, season the ragout with salt and pepper and serve with the dumplings.
If you like and have a great recipe, you can make the dumplings yourself from scratch. I haven't made any better homemade potato dumplings so far, so I always use dumpling dough from the refrigerated shelf. It's also much faster ;-)
Recipe by
Blueberry Vegan
at https://www.blueberryvegan.com/de/deftiges-malzbier-pilzragout/