Juicy Rhubarb Elderflower Muffins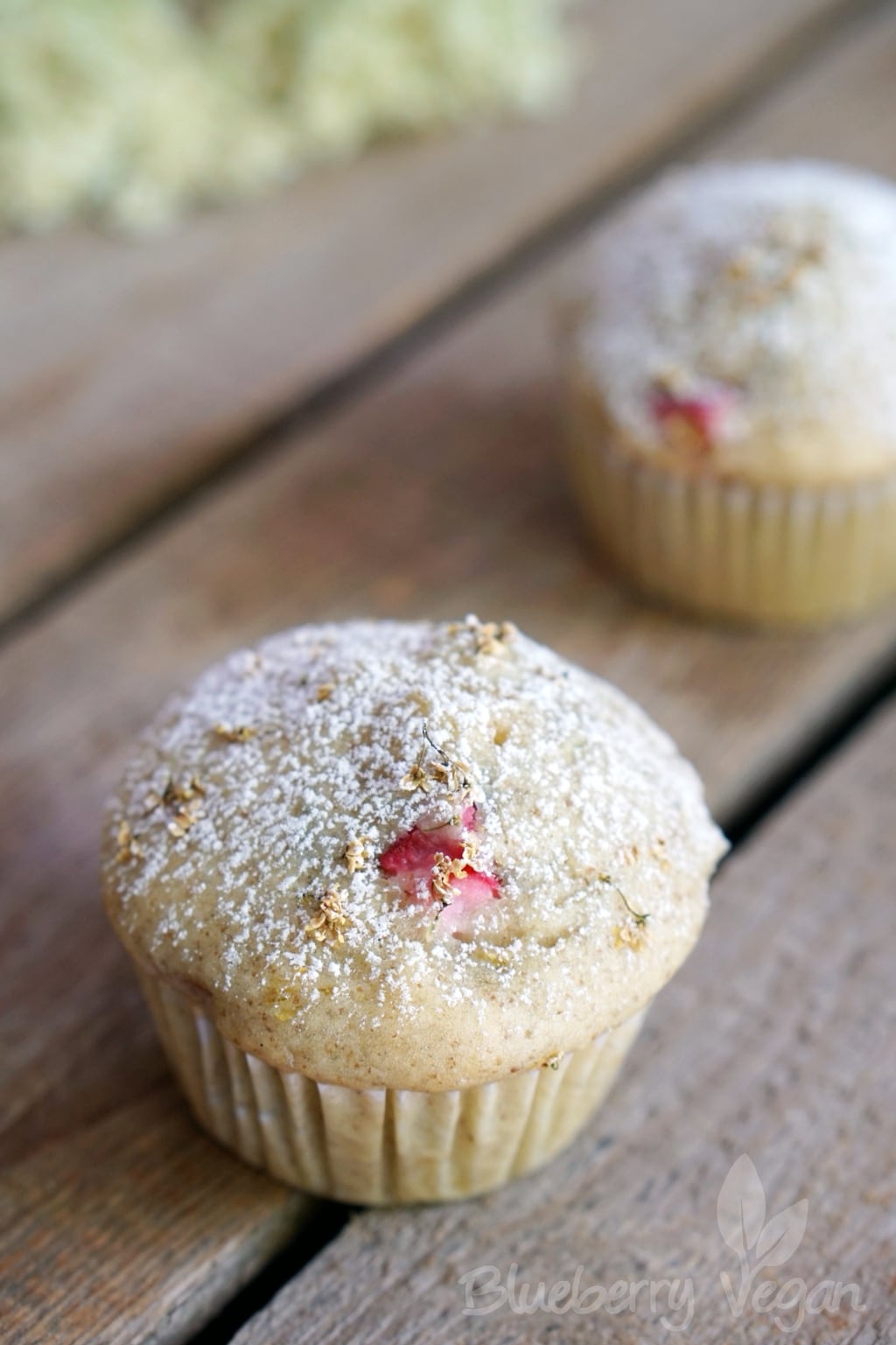 2 tbsp golden flaxseed, ground
6 tbsp water
250 ml (1 cup) soy milk
1 tsp apple cider vinegar
2 tsp vanilla extract
60 ml (1/4 cup) neutral-tasting oil
250 g (8.8 oz) light flour - spelt or wheat
120 g (4.9 oz) sugar
1 1/2 tsp baking powder
1 tsp baking soda
1 stick rhubarb
3 umbels elderflower
some icing sugar
Preheat the oven to 180 °C (360 °F) and line a muffin tray with paper liners. Cut the rhubarb into small cubes. Pick the elder flowers from the umbels. The flowers of two umbels go in the dough, the rest on top.
Mix the flaxseed with the water and let jelly. Mix the soy milk with the vinegar and let curdle.
Mix the dry ingredients in a bowl with a whisk. Then pour in the moist ingredients and stir briefly. Do not overmix, otherwise the batter will become tough. Fold in the rhubarb and elderflowers briefly.
Spread the dough into the muffin liners, sprinkle with the remaining elderflowers and bake in the oven for about 20 minutes until a toothpick comes out clean.
Let the muffins cool in the tray for another 5 minutes, then take them out and let them cool completely on a cake rack. Serve dusted with icing sugar.
Recipe by
Blueberry Vegan
at https://www.blueberryvegan.com/de/saftige-rhabarber-holunderblueten-muffins/