Chili-stuffed Sweet Potato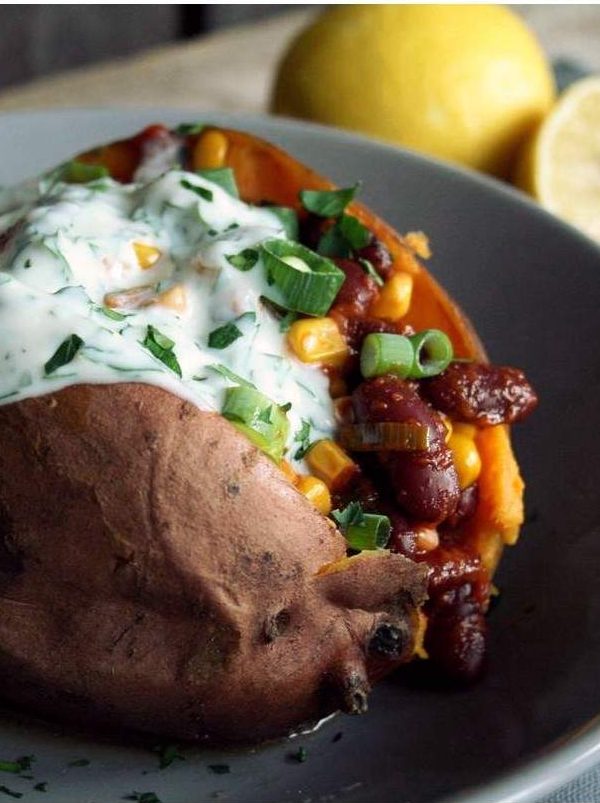 2 middle-sized sweet potatoes - about 250 - 300 g (8 - 10 oz)
1/2 tsp salt
1 tsp olive oil
1 tsp lemon juice
salt
pepper
3 tbs unsweetened soy yoghurt
2 tsp lemon juice
1 tbs parsley, chopped
1 pinch salt
125 g (4.4 oz) kidney beans, canned
125 g (4.4 oz) corn, canned
200 g (7 oz) chopped tomatoes, canned
2 spring onions
1 clove garlic
1 tsp olive oil
1 tbs tomato paste
1 tsp sambal oelek
1/4 tsp smoked paprika, hot
1/2 tsp salt
1/4 tsp cocoa powder
1/4 tsp sugar
1/2 tsp lemon juice
chili powder
salt
Preheat the oven to 180° C (360° F).
Prick the sweet potatoes with a roulade needle or a pointed knife several times. Mix the olive oil and salt and rub the sweet potatoes with it. Wrap the sweet potatoes seperately in tinfoil and bake them in the oven for about 45 - 60 minutes. They are ready, when a knife cuts in easily.
In the meantime prepare the yoghurt and the chili. For the yoghurt combine all ingredients and keep it refrigerated.
For the chili drain and rinse the kidney beans and corn, slice the spring onions and press or cut the garlic.
In a pot heat up the oil and sautée the spring onions. Add the garlic and tomato paste and briefly sautée it.
Deglaze with the chopped tomatoes and reduce the heat to a simmer. Add kidney beans, corn, sambal oelek, paprika, salt, cocoa, sugar and lemon juice.
Cover and let simmer for about 30 minutes. Stir from time to time and add, if needed, 1 - 2 tbs water. Season with chili powder and salt.
Remove the sweet potaoes from the oven and cut them lengthwise. Sprinkle with lemon juice and season with salt and pepper.
Pour the chili over the sweet potatoes and give some yoghurt on top.
Recipe by
Blueberry Vegan
at https://www.blueberryvegan.com/de/gefuellte-suesskartoffel-auf-mexikanische-art/