Juicy Baked Apple Cake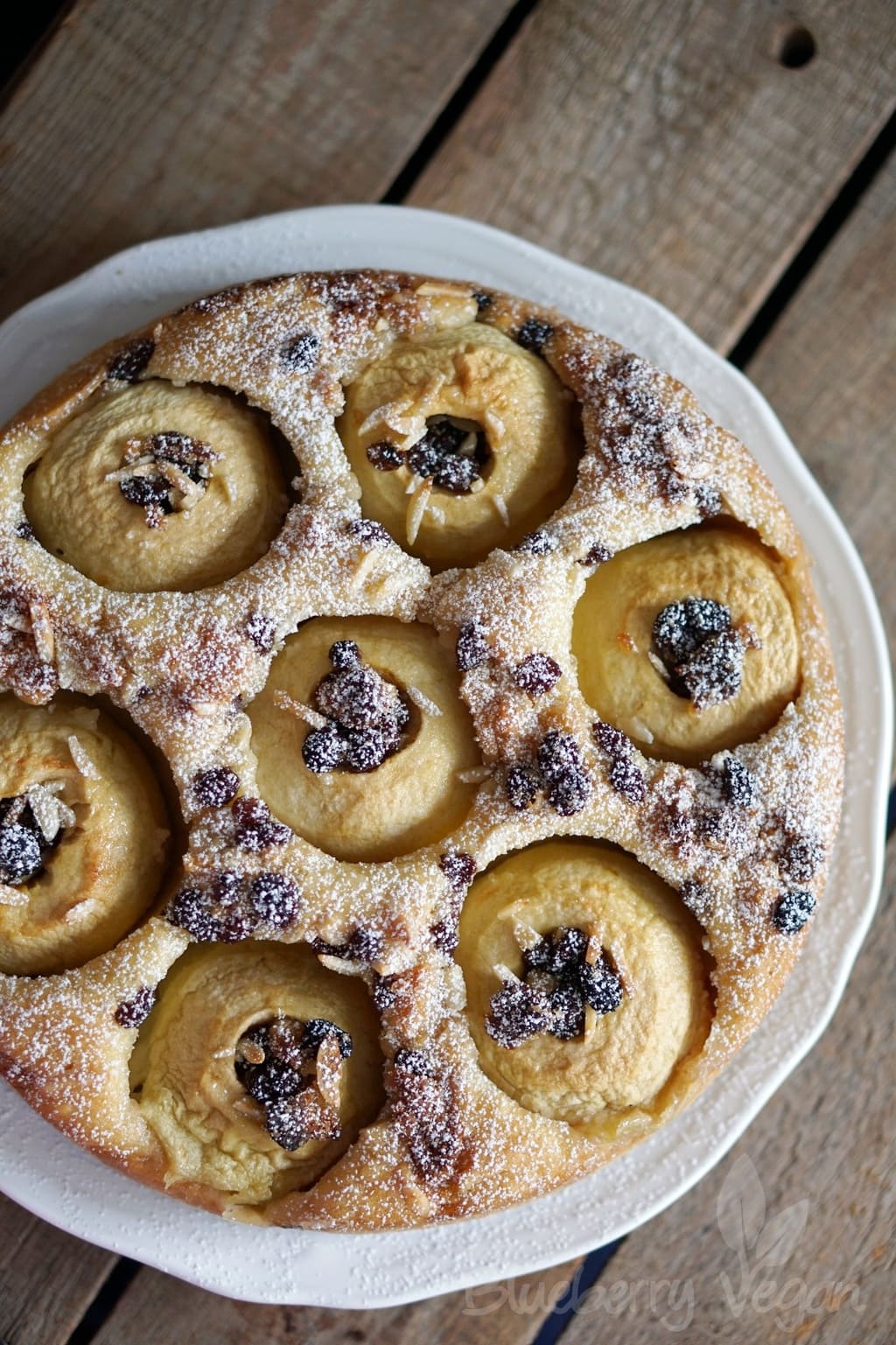 250 g (8.8 oz) flour
150 g (5.3 oz) sugar
1/2 pk. baking powder - about 2 tsp
1/2 lemon
100 g (3.5 oz) soya yoghurt
75 g (2.6 oz) vegan butter, molten
1 tsp vanilla extract
180 ml (3/4 cup) sparkling water
7 fist-sized apples - Boskoop
100 g (3.5 oz) marzipan
50 g (1.8 oz) raisins
2 tbsp almond sticks
2 tbsp brown sugar
lemon juice
powdered sugar
Preheat the oven to 180 °C (360 °F). Grease a springform pan (26 cm - 10 in). Peel the apples and remove the core. Rub with lemon juice so they do not turn brown.
For the stuffing chop the marzipan and combine with raisins, almonds and brown sugar. Fill the apples with it and set the rest of the stuffing aside.
For the dough, mix flour with sugar and baking powder, zest the lemon and squeeze out the juice, adding both to the batter along with soya yoghurt, vegan butter, vanilla extract and sparkling water. Mix briefly with a whisk until only a few small lumps are left and pour into the springform pan.
Press the apples into the dough and sprinkle the rest of the filling over the whole cake. Bake in the oven in the lower third for 60 minutes. If necessary cover for the last minutes, so that nothing burns.
Allow the cake to cool and dust with icing sugar as you like.