Mediterranean Potato Salad with Grilled Vegetables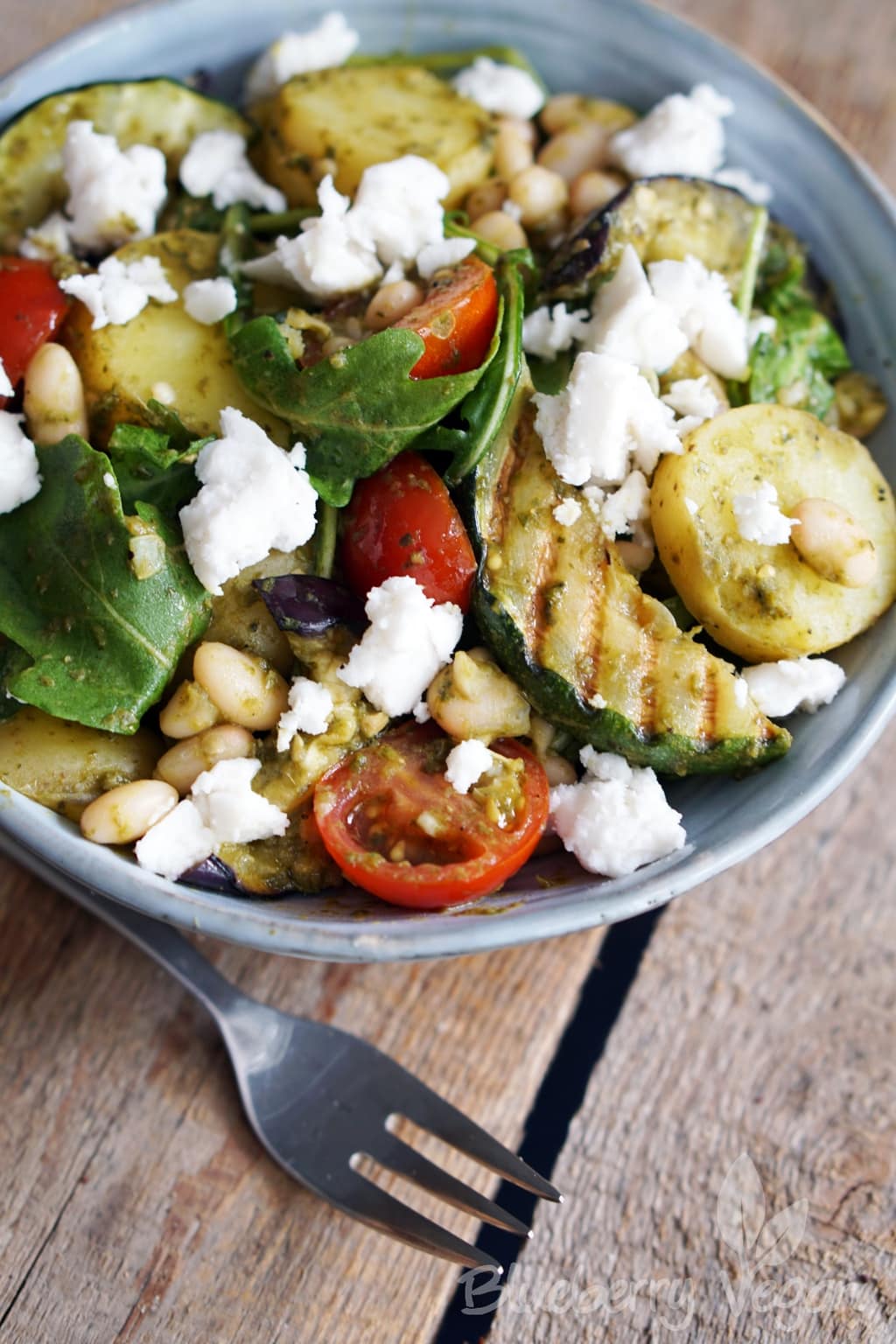 750 g (26 oz) small potatoes
1 eggplant
1 zucchini
250 g (8.8 oz) cherry tomatoes
1 small can white beans
2 hands full arugula
1 small jar pesto
2 tbsp vinegar
1/2 lemon - the juice
1 small clove garlic
salt
pepper
vegan feta alternative - to taste
Cut the potatoes into 0.5 cm (0.2 in) slices and cook.
For the dressing in a big salad bowl press the garlic and mix with pesto, vinegar and lemon juice. Add a thoroughly amount of salt and pepper to make it strong.
Drain the white beans and rinse well. Add to the bowl with the dressing and stir. Halve the tomatoes and add to the beans and stir.
Cut eggplant and zucchini into thin slices and grill. You won't need oil in a contact grill, add some oil if you prepare them on the grill outside. Then cut into strips and add to the salad along with the potatoes.
Let the salad steep for at least 1 hour and then season with salt and pepper again. Fold in the arugula, sprinkle with vegan feta alternative if you like and serve.
I sprinkled some vegan feta alternative from Bedda over. If you can't find any alternative to buy, make it yourself:
Vegan Feta Cheese Alternative
Recipe by
Blueberry Vegan
at https://www.blueberryvegan.com/de/mediterraner-kartoffelsalat-mit-grillgemuese/