Strawberry Cupcakes with White Chocolate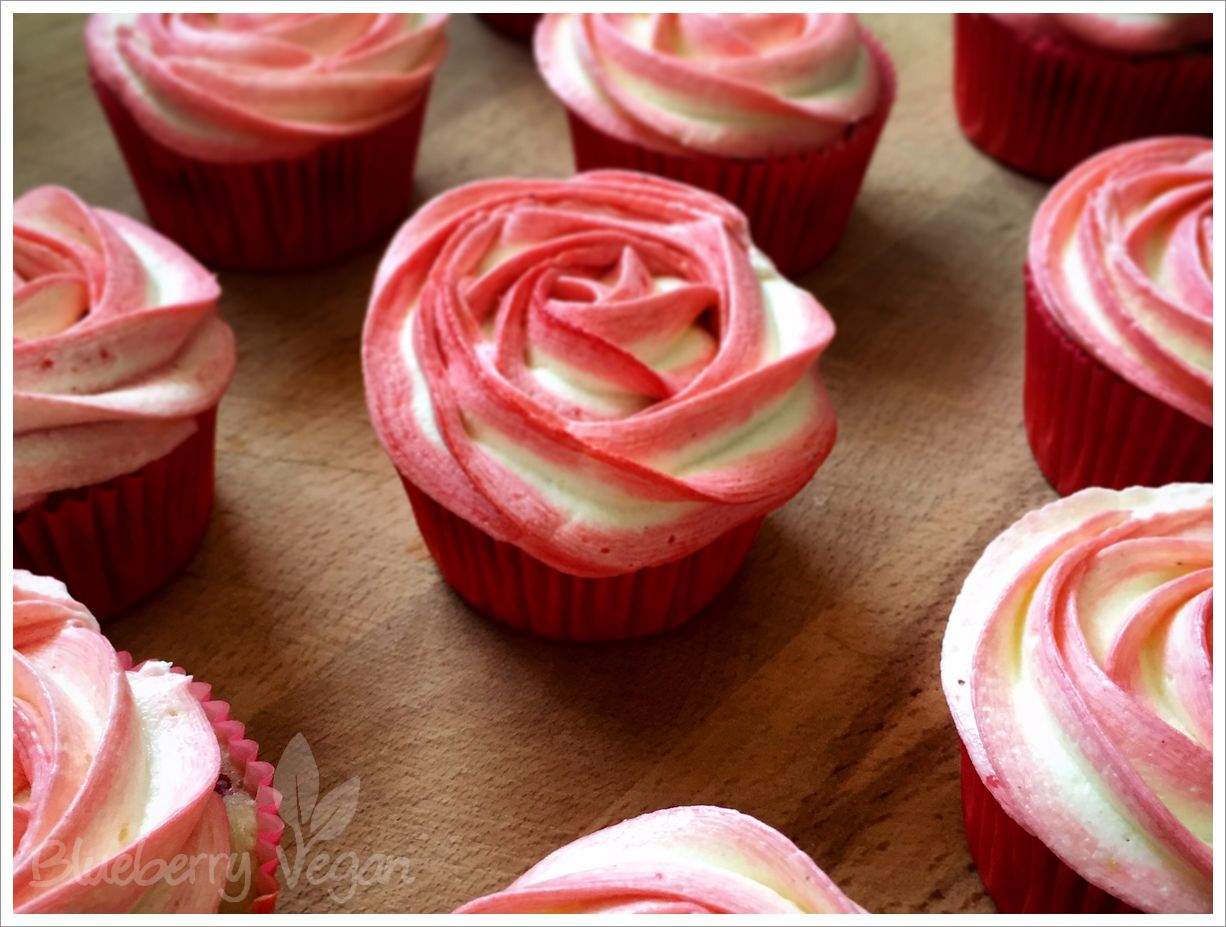 Ergibt/Yield:
12 Cupcakes
240 ml (1 cup) soy milk
1 tsp apple cider vinegar
80 ml (1/3 cup) neutral tasting oil
2 tsp vanilla extract
160 g (2/3 cup) sugar
220 g (1 1/4 cup) flour
2 tbsp corn starch
3/4 tsp baking powder
1/2 tsp baking soda
1/2 tsp salt
40 g (1.5 oz) white chocolate
150 g (5.3 oz) strawberries
150 ml (1/2 cup plus 2 tbsp) soy or almond milk
2 tbsp instant pudding powder
2 tbsp sugar
150 g (5.3 oz) vegan butter
1 pinch food dye
Preheat the oven to 180° C (350° F) and equip a muffin pan with liners. Chop the strawberries and chocolate in small pieces.
In a big bowl combine soy milk and apple cider vinegar and let curdle 2 - 3 minutes. Add sugar, vanilla extract and oil and whisk bubbly for about 2 minutes.
Place a sieve over the bowl and measure flour, starch, baking agents and salt in it and sieve over the dry ingredients. Stir until just combined, don't overmix. It's ok, if there are some little lumps left. Fold in the chopped chocolate and pour the batter in the liners.
Spread the strawberries evenly on the batter and gently press them into it.
Bake in the oven for about 20 - 25 minutes until a toothpick comes out clean.
Let cool for 5 minutes in the mold then put the cupcakes on a cooling rack and let them cool completely.
For the frosting prepare a pudding. Mix non-dairy milk with sugar and instant pudding powder and bring to boil. Let boil for 1 - 2 minutes, then pour into a small bowl. Cover the pudding with clingfilm directly on the surface to avoid a skin.
Let the pudding and vegan butter get room temperature.
Beat the butter 3 - 4 minutes until it ist white and fluffy. Then add the pudding spoon after spoon while beating. It takes a couple of minutes until it's a perfect fluffy and soft buttercream.
Take a third of the buttercream and dye it with some food dye and spread it in a piping bag. Make sure the colored buttercream builds a sourranding. Place the white buttercream in the middle.
Pipe the buttercream on the cupcakes beginning in the middle and then go around and then gently pull apart the piping bag. Watch the video for a better imagination.
If your buttercream curdles, beat in two tablespoons of hot coconut fat to make it smooth again.
Recipe by
Blueberry Vegan
at https://www.blueberryvegan.com/de/erdbeer-cupcakes-mit-weisser-schokolade/