Mushroom Pot Pies with Puff Pastry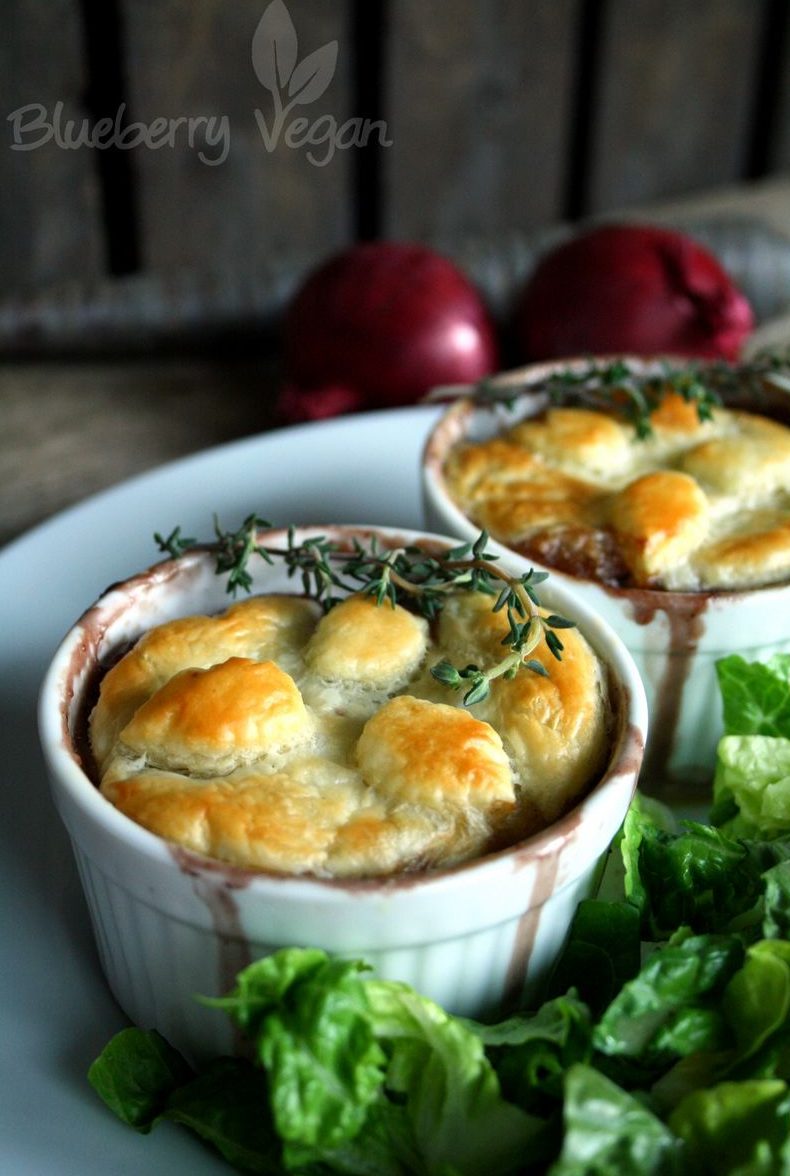 Ergibt/Yield:
2 - 4 Portions
500 g (18 oz) brown mushrooms
1 big (red) onion
1 clove garlic
1 big (purple) carrot
4 sprigs thyme
1 tbsp olive oil
1 tbsp flour
150 ml (1/2 cup plus 2 tbsp) malt or dark beer
salt
pepper
1/2 pk. vegan puff pastry
1 tbsp non-dairy cream
Finely chop onion, garlic and carrot. Pick the thyme leaves off the sprigs. Quarter the mushrooms.
In a big pan heat the oil and sauté the onions until translucent. Add carrots and garlic and sauté briefly. Then add mushrooms and thyme and fry until fragrant.
Dust the vegetables with flour, stir and deglaze with malt beer. Stir well and season with salt and pepper. Let cook for 10 minutes, stir occasionally.
Preheat the oven to 180° C (360° F).
Roll out the puff pastry and cut out round discs with the baking dishes. Use a cookie cutter to cut out nice shapes (leaves, hearts, stars) out of the rest of the puff pastry for decoration, set aside.
Pour the mushrooms in the baking dishes and cover with a pastry disc. Pinch with a toothpick, to let out air while in the oven. Brush on non-dairy cream and decorate with the leftover puff pastry, also brush with non-dairy cream.
Bake in the oven for 20 minutes until golden and serve with a salad (and hasselback potatoes).
Recipe by
Blueberry Vegan
at https://www.blueberryvegan.com/de/pilztoepfchen-mit-blaetterteighaube/