Veggie Bowl with Peanut Tofu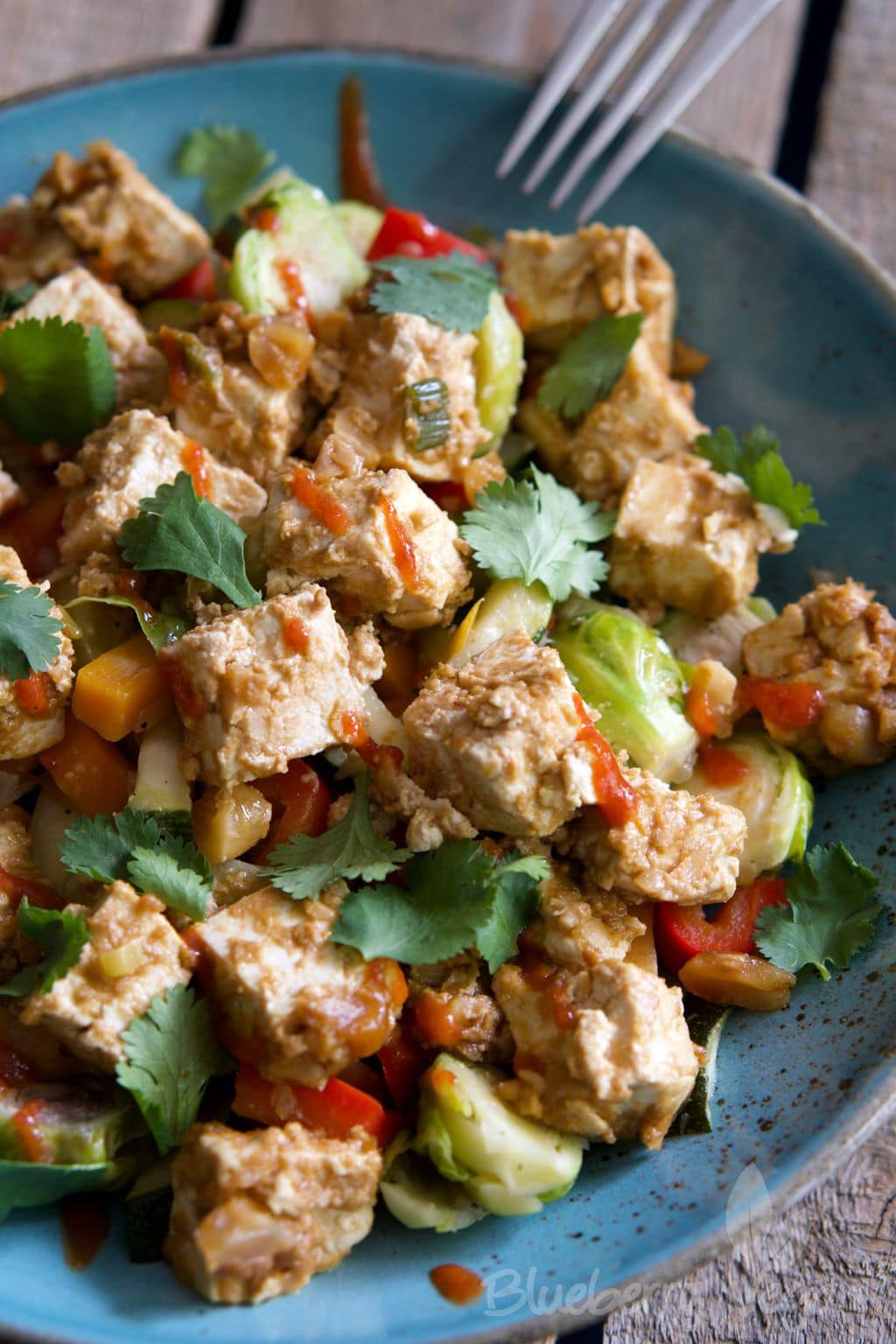 1 tbsp oil
1 small onion
1 clove garlic
about 600 g (21 oz) veggies - bell pepper, zucchini, leek, carrot, celery, Brussels sprouts or else
salt
pepper
1 block fresh tofu from the Asian supermarket (about 400 g - 14 oz)
1 tbsp oil
1 green onion
1 clove garlic
1 tbsp soy sauce
2 tbsp peanut butter
2 - 3 tbsp water
3 tbsp peanuts, chopped
1/2 tsp smoked paprika
Sriracha and cilantro - to taste
Place the tofu between two kitchen towels and press with two or three heavy books for about 5 minutes (or as long as you cut the veggies). Then cube. Slice the green onion and press the garlic. In a small bowl mix peanut butter, soy sauce, water and paprika until smooth.
Clean the veggies and chop or cube it. Finely chop the onion and press the garlic. Heat the oil in a big wok pan and sauté the onion in it until translucent. Then add the rest of the veggies and fry for about 7 minutes, stirring occasionally. Season to taste with salt and pepper.
Heat the oil for the tofu in a pan and sauté the green onion and garlic in it. Then add the peanuts and the sauce. Stir well before adding the tofu and fry it for 3 minutes in the sauce.
Arrange the veggies in two bowls and top with the tofu. Garnish with sriracha and cilantro, if you like.
Recipe by
Blueberry Vegan
at https://www.blueberryvegan.com/de/bunte-gemuese-bowl-mit-erdnuss-tofu/