Asparagus Pancake Rolls with Tangy Bean Dip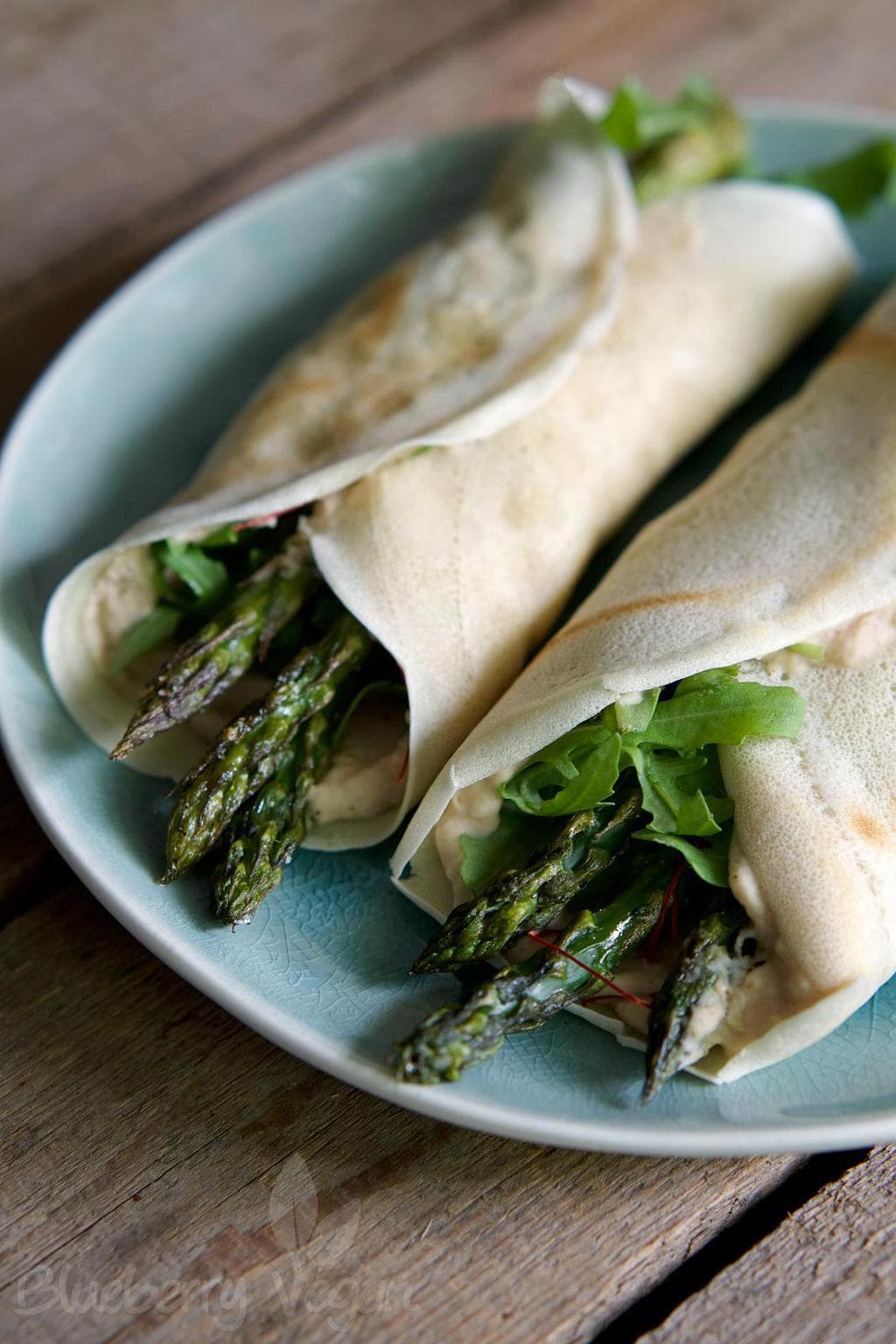 125 g (4.6 oz) white flour - spelt or wheat
100 ml (1/2 cup) soy milk
100 ml (1/2 cup) fizzy water
1 tbsp oil
1 pinch salt
1 small can white beans
1 tbsp tahini
1 tbsp lemon juice
1 clove garlic
salt
pepper
2 handful arugula
1 bunch asparagus
oil
salt
pepper
chili strings - optional
Heat the oven to 180° C (360° F) and line a baking tray with parchment.
Give some oil in your hands and rub the asparagus spears and place on the baking tray, sprinkle salt and pepper over and bake in the oven for about 10 minutes until the ends start to brown. Keep the asparagus warm in the oven.
For the bean dip drain the beans and blend with the rest of the ingredients to a smooth paste. Season to taste with salt and lemon juice.
Whisk all ingredients for the pancakes except for the fizzy water until combined and then gently stir in the fizzy water. Set aside to let rest for a little while.
Heat a non-stick pan to medium heat and bake 4 - 6 pancakes in it. Stack them to keep them warm and soft.
Spread some bean dip on each pancake, spread arugula and asparagus on them and sprinkle over some chili strings. Roll up from one side and arrange on two plates.
Recipe by
Blueberry Vegan
at https://www.blueberryvegan.com/de/leckere-spargel-pfannkuchen-roellchen-mit-wuerzigem-bohnendip/