Spinach Salad with Baked Pumpkin, Balsamic Mushrooms, Chickpeas and Tahini Dressing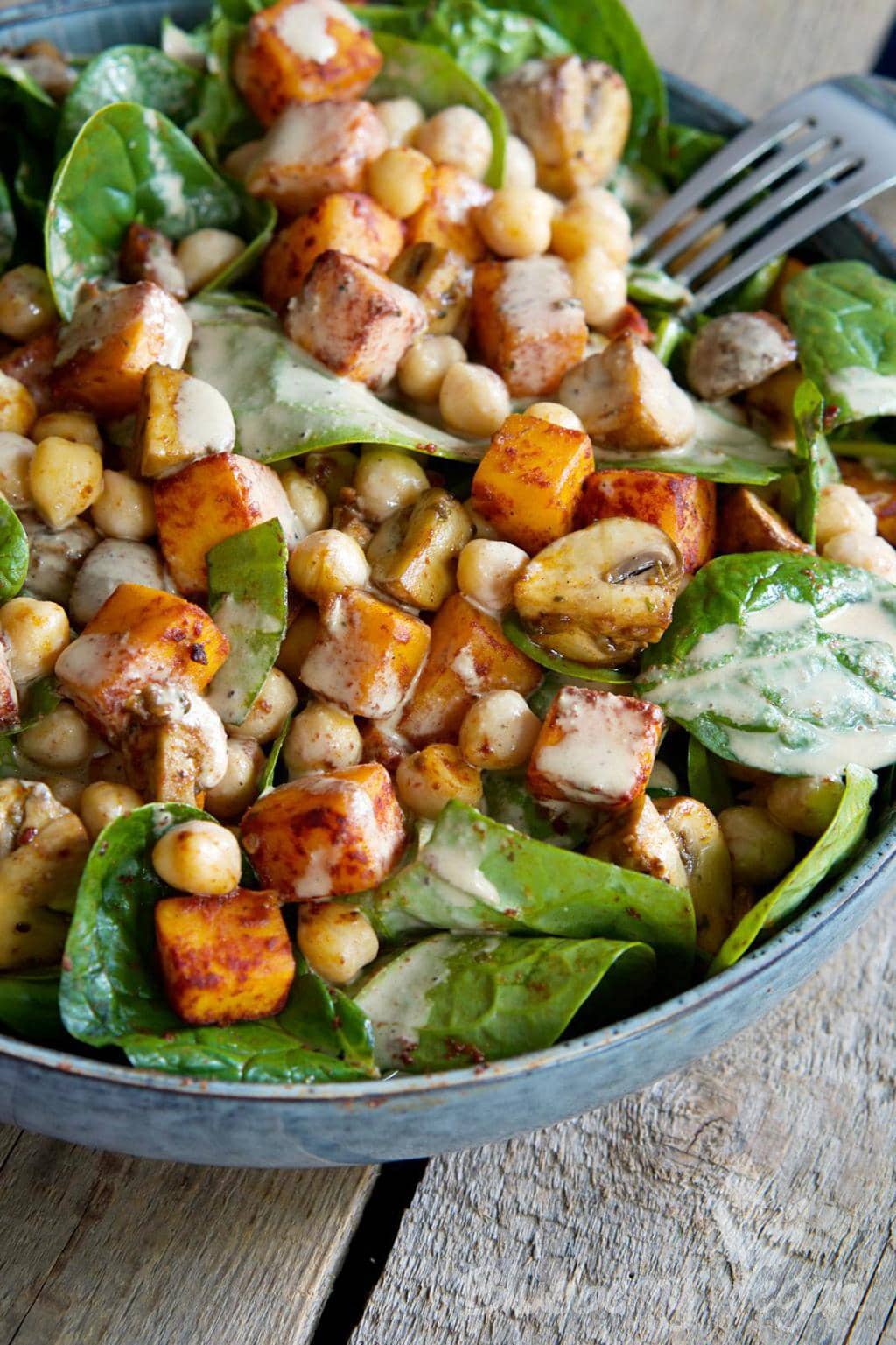 Gang/Type:
Main Dish, Salad
250 g (8.8 oz) mushrooms
1 tbsp olive oil
2 cloves garlic
1/2 tsp Italian herbs
2 tbsp balsamic vinegar
salt
pepper
200 g (7.1 oz) spinach
250 g (8.8 oz) chickpeas, cooked
Preheat the oven to 180° C (360° F) and line a baking tray with parchment paper. Peel the butternut squash and cube it into bite-sized pieces. Mix with the spices and bake in the oven for 15 - 25 minutes.
Quarter the mushrooms and press the garlic. Heat the oil in a pan and sauté the garlic in it. Add the mushrooms and briefly fry. Deglaze with the balsamic vinegar and add the spices. Sauté for about 5 minutes while stirring occasionally. Turn off the stove and keep the mushrooms warm in the pan.
Blend all ingredients for the dressing in the Personal Blender or any other blender.
When the pumpkin is ready, mix all ingredients in a big bowl and arrange on two plates. Drizzle over the dressing.
Instead of pumpkin also try sweet potatoes in this salad.
Read more about my
Personal Blender
here.
Recipe by
Blueberry Vegan
at https://www.blueberryvegan.com/de/warmer-spinatsalat-mit-gebackenem-kuerbis-balsamico-pilzen-kichererbsen-und-tahindressing/