Asparagus with Potatoes, Tofu and The Ultimate Vegan Sauce Hollandaise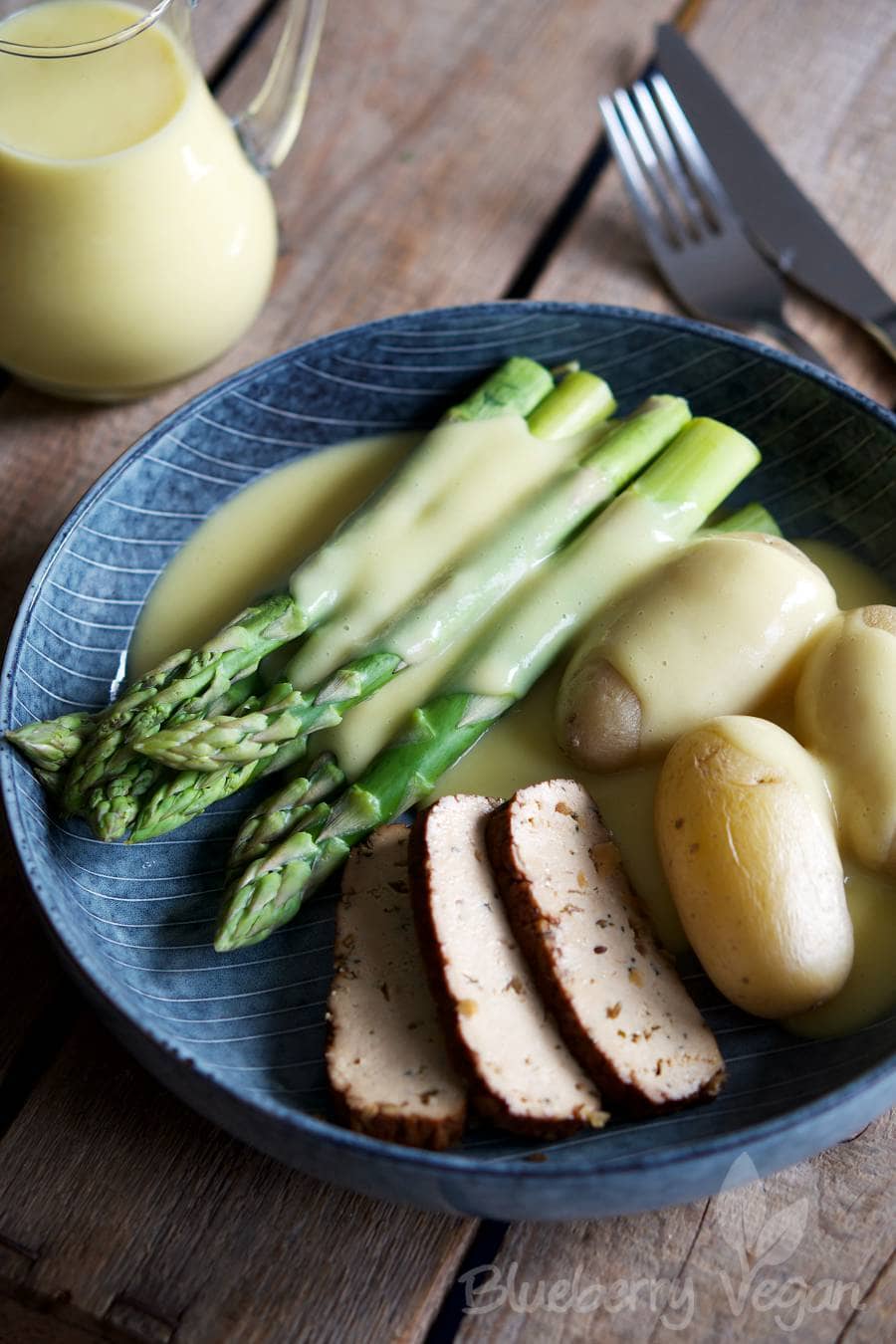 250 g (8.8 oz) potatoes
1 small onion
1 clove garlic
1 cup (240 ml) water
4 tbsp Alba oil
1 1/2 - 2 tbsp lemon juice
2 tsp nutritional yeast flakes
1 tsp mustard
1/2 tsp salt
white pepper
1 pinch turmeric - just for the color
1 pinch Kala Namak
1 bunch asparagus - white or green
400 g young potatoes
1/2 pk. Taifun Black Forest Tofu - or any other smoked tofu or ham substitute
Cook the potatoes and asparagus until done. I boil the potatoes in a pot and then add a steamer with the asparagus on top of it, after half of the cooking time.
Roughly chop the potatoes and onion for the sauce, peel the garlic. Cook or steam the veggies until soft and then blend for about two minutes with the other ingredients until smooth. Season to taste with lemon juice and salt.
Arrange asparagus and potatoes on a plate. Slice the tofu and add to the plate. If the sauce isn't hot enough (my blender makes it really hot) reheat it and then pour it over the asparagus and potatoes.
There are supposed to be people who can divide this amount of sauce into three servings. I don't know such people.
Recipe by
Blueberry Vegan
at https://www.blueberryvegan.com/de/spargel-mit-kartoffeln-tofu-und-der-ultimativen-veganen-sauce-hollandaise/