Hearty Pizza Pull-Apart Bread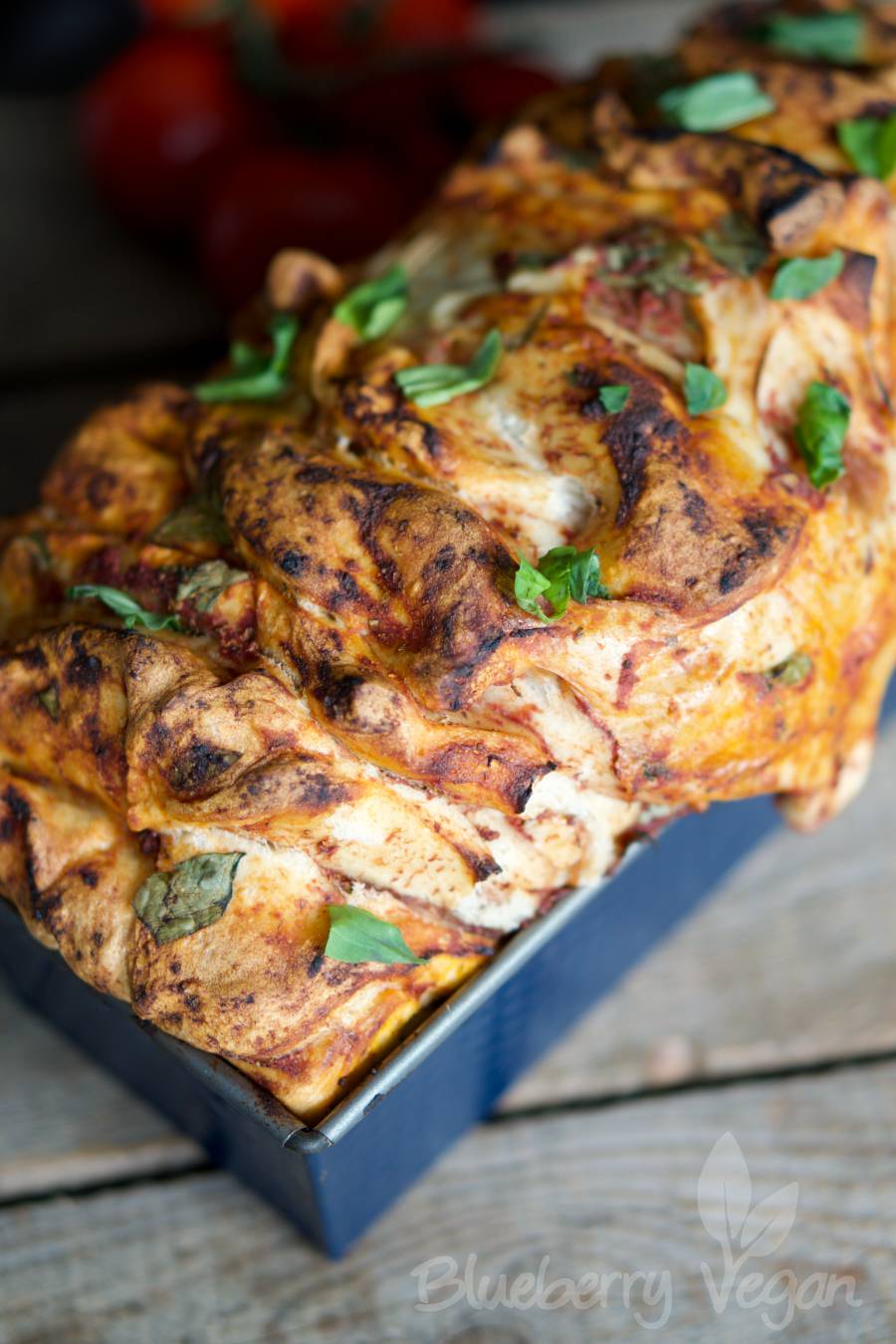 500 g (17.6 oz) flour
1 pk dry active yeast
2 tsp salt
about 300 ml (1 1/4 cup) lukewarm water
100 g (3.5 oz) tomato paste
200 ml (3/4 cup plus 1 tbsp) water
1 tbsp oregano
1 tsp onion powder
1/2 tsp garlic powder
1/2 tsp salt
pepper
Make the cashew mozzarella first. Blend all ingredients in a high-speed blender until smooth. Then add the psyllium husks and mix in for a few seconds. Pour the mass into a greased square plastic container and refrigerate for 2 hours to firm.
For the yeast dough thoroughly knead all ingredients until a soft dough forms. I put it in my machine for at least 5 minutes. Dust with flour, cover and let rise in a warm spot until it doubled its size. It usually takes 1 hour with me.
For the tomato sauce put all ingredients in a shaker or screw top jar and shake until combined. Roughly chop the basil. Grease a loaf pan (25 cm - 10 inches).
Roll out the dough on the dusted counter in a rectangle shape 0.5 cm (0.2 inches) thick. Spread the tomato sauce on and drizzle over the basil. Remove the cashew mozzarella from the container and cube it with a knife. Arrange the mozzarella cube evenly on the pizza - it is very sticky… But you have to go through this!
Now it gets messy: Cut the pizza with a pizza roller into squares (about 12 cm x 12 cm - 5 in x 5 in), stack them to a pile and then place upright in the loaf pan. I stacked 5 - 6 squares and then placed them in the pan. It's easier than to try one big pile. It's ok if it is a bit messy in the pan.
Cover the bread and let rise again for 15 minutes. Then place in the lower third of the cold oven and put it on 180° C (360° F). After 45 - 50 minutes the bread is done. If it is tanned enough before that, cover with some aluminum foil to prevent burning.
Recipe by
Blueberry Vegan
at https://www.blueberryvegan.com/de/herzhaftes-pizza-zupfbrot/