Fruchtige Orangen- und Zitronen-Cupcakes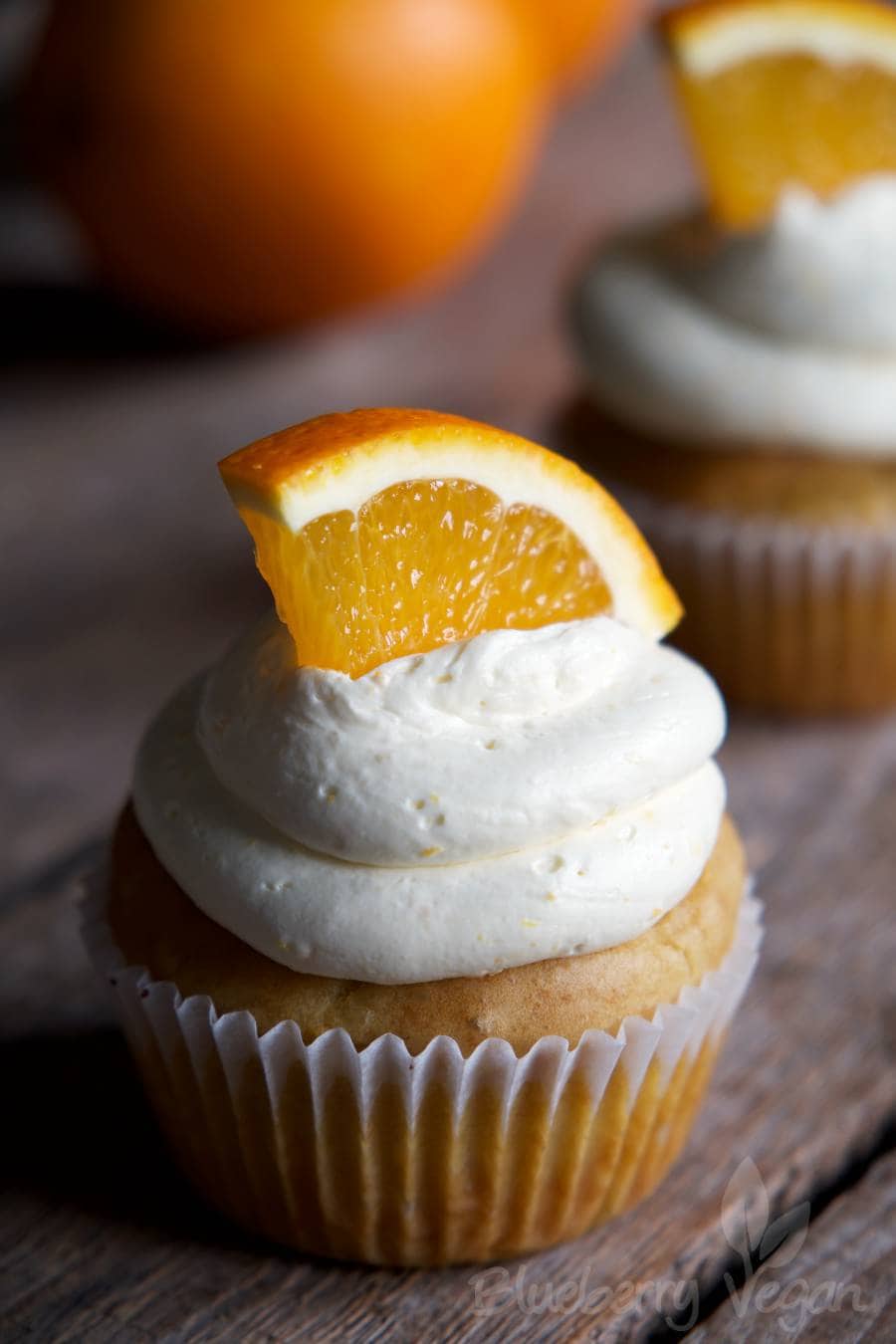 Ergibt/Yield:
12 Cupcakes
1 lemon or orange
about 1/2 cup soy milk
1 tsp apple cider vinegar
250 g (1 1/2 cup) flour
120 g (1/2 cup) sugar
1 1/2 tsp baking powder
1 tsp baking soda
1/4 tsp salt
80 ml (1/3 cup) neutral tasting oil
1 lemon or orange
about 100 ml (1/2 cup) water
2 tbsp sugar
2 tbsp flour
125 g (4.4 oz) vegan butter
2 tbsp powdered sugar
Rub off the peel of one lemon or orange and press the fruit. Add soy milk to the juice to make it 250ml (1 cup) and add the vinegar. Preheat the oven to 180° C (360° F) and line a muffin tray with paper liners.
In a bowl mix the soy milk juice mixture with fruit peel, sugar and oil and beat with a whisk until foamy. Add a sieve on top, measure the dry ingredients in it and sieve them over the wet ingredients. Whisk until just combined. A few little lumps are allowed to remain.
Pour the dough into the muffin tray and bake in the oven for 18 - 20 minutes until golden. Let cool for 5 minutes in the muffin tray, then transfer to a cooling rack and let cool completely.
While the cupcakes are cooling rub off the peel of one lemon or orange and press the fruit. Add water to the juice to make it to 150ml (1/2 cup plus 2 tbsp). Stir in peel, sugar and flour and bring to boil while stirring. When the mixture is thick, transfer the pudding to a bowl and cover with clingfilm directly on the pudding to prevent it from getting a skin. Get the butter out of the fridge an let it get room temperature, just like the pudding.
Beat the butter with the powdered sugar for 3 - 4 minutes until white and fluffy. Then beat in the pudding tablespoon after tablespoon. It takes a few minutes until the buttercream is fluffy and ready to use. Pour into a piping bag and pipe on the cupcakes. Slice a lemon or orange and quarter the slices. Add one piece of fruit to each cupcake.
If the buttercream curdles, beat it again with two tablespoons of hot coconut oil. This way it will become smooth again. To get the dough in the muffin tray without making a mess, I use an
ice cream scoop with ejection function
.
Recipe by
Blueberry Vegan
at https://www.blueberryvegan.com/de/fruchtige-orangen-und-zitronen-cupcakes/