Bowl with Fried Oyster Mushrooms and Tahini Dressing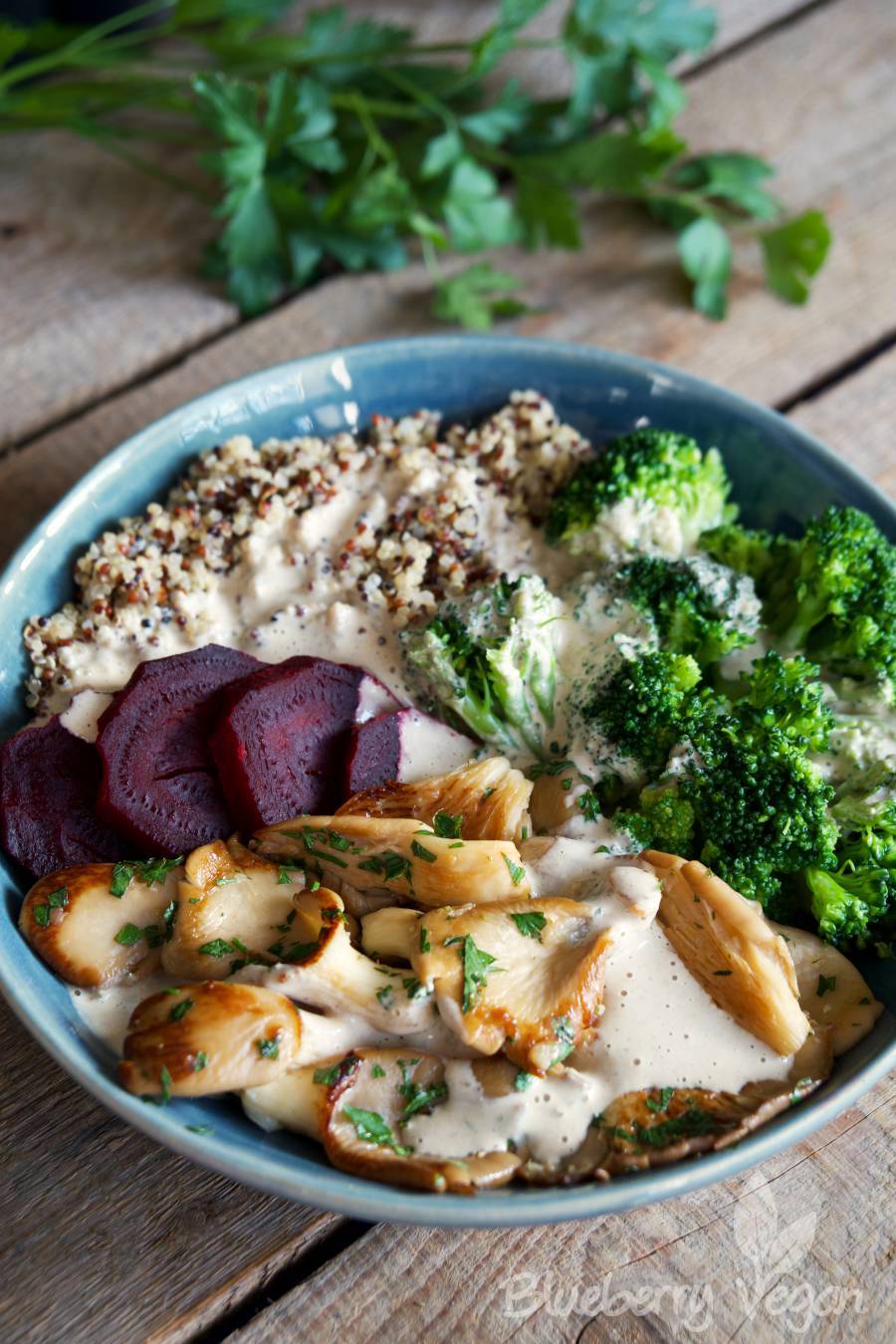 4 tbsp water
2 tbsp tahini
2 tbsp lemon juice
2 tbsp nutritional yeast flakes
1/4 tsp salt
pepper
80 g (1/2 cup) quinoa
1 head broccoli
250 g (3 hands full) oyster mushrooms
2 bulbs beetroot, cooked
2 tsp oil
2 cloves garlic
1 lemon
2 tbsp parsley
salt
Mix all ingredients for the dressing in a blender or shake in a top-screw jar.
Slice the beetroot, cut the broccoli into florets and clean the oyster mushrooms. Juice the lemon, chop the parsley and press the garlic.
Cook the quinoa with double the amount of water and some salt for 10 minutes, then turn off the stove and let well for another 5 minutes.
While the quinoa is cooking place the broccoli in a steamer above the quinoa pot and steam it.
In a pan heat the oil and sauté the garlic in it. Then add the mushrooms, pour over the lemon juice and season with salt. Fry for a few minutes until the mushrooms browned. Stir in the parsley.
Arrange the quinoa and broccoli in two bowls. Add the beetroot slices and oyster mushrooms and drizzle the tahini dressing over.
Recipe by
Blueberry Vegan
at https://www.blueberryvegan.com/de/bowl-mit-gebratenen-austernpilzen-und-tahin-dressing/