Spitzbuben Cookies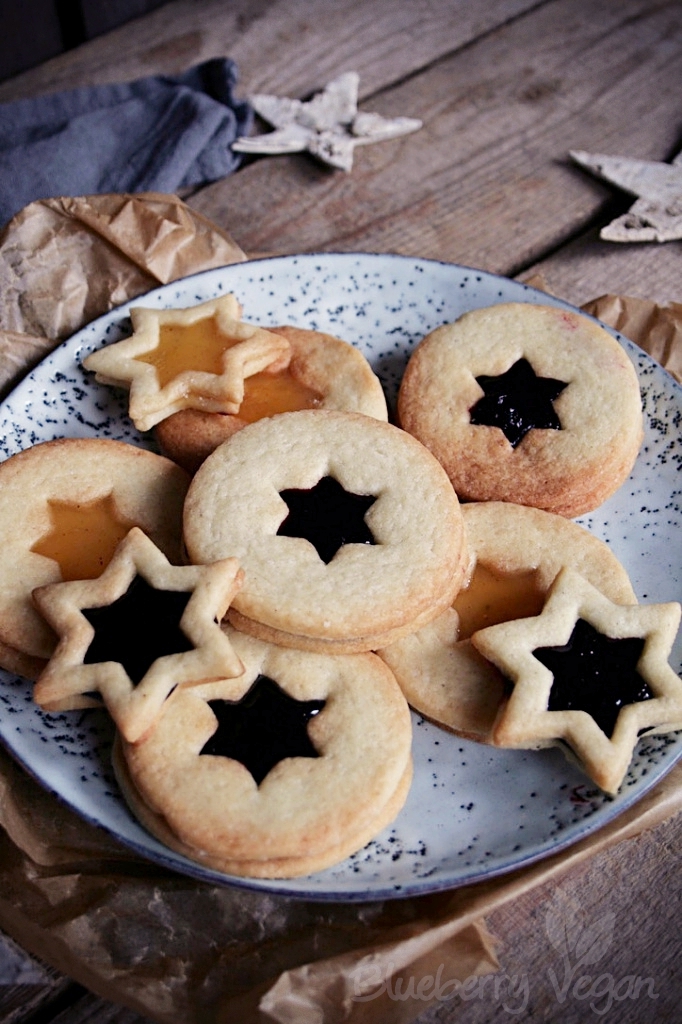 Ergibt/Yield:
about 25 - 30 Cookies
250 g (8.8 oz) white flour - spelt or wheat
100 g (3.5 oz) powdered sugar
1 pinch vanilla
1 pinch salt
1 tbsp plant-based milk
150 g (5.3 oz) cold vegan butter
75 g (4 tbsp) yellow jam - apricot, apple, orange, pumpkin
75 g (4 tbsp) red jam - red currant, blueberry, cherry, strawberry
powdered sugar - to taste
In a bowl mix flour, powdered sugar, vanilla and salt. Add the plant-based milk and the vegan butter in small pieces and knead all ingredients until just combined. Wrap in foil and let rest in the fridge for at least an hour.
Preheat the oven to 180°C (360° F) and line two baking trays with parchment paper. Roll out the dough with a rolling-pin on the flour dusted counter and cut out cookies each two of the same size. Bake in the oven for 10 - 12 minutes until golden. Then remove and let cool on a cooling rack.
If you like dust the upper cookies with powdered sugar. Heat the jam in small bowls (in the microwave) and add a teaspoon to each bottom cookie. Then cover with an upper cookie and gently press on.