Hearty Seitan Goulash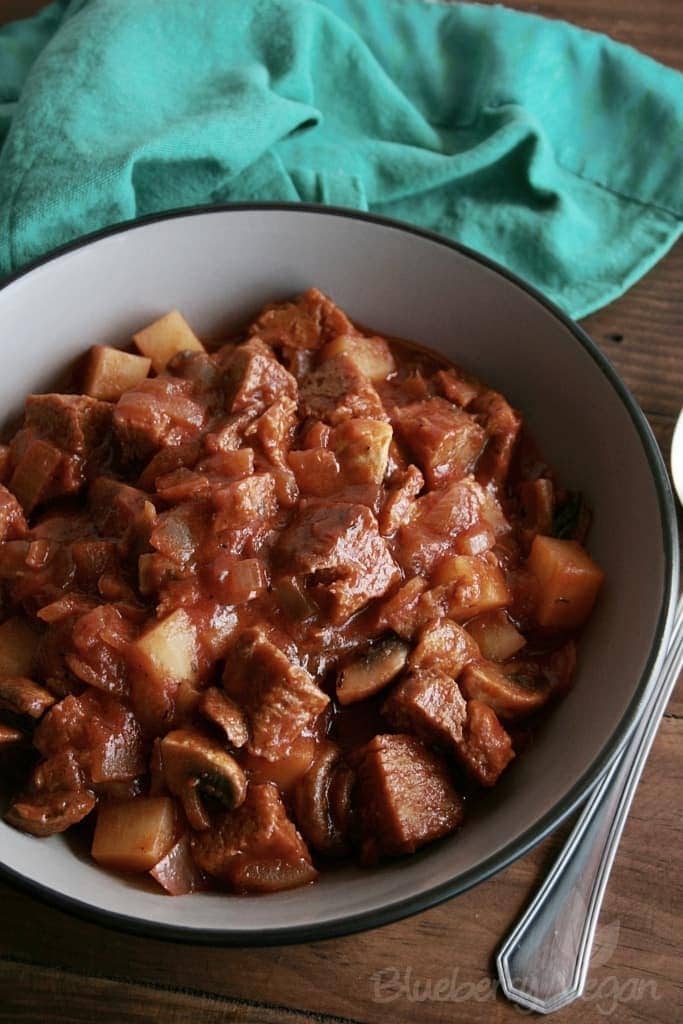 1 fist-sized onion
250 g (8.8 oz) seitan
250 g (8.8 oz) potatoes
125 g (4.4 oz) mushrooms
1 - 2 tbsp olive oil
2 tbsp tomato paste
1 tsp maple syrup
1 tsp thyme
1 bay leaf
1 tbsp hot smoked paprika powder
400 ml (1 3/4 cup) broth - reduce the broth and add some red wine
salt
pepper
maple syrup
Chop the onion, roughly cube the seitan, peel and finely cube the potato and quarter the mushrooms.
Heat the oil in a pot and sauté the onions until translucent. Stir in the tomato paste and maple syrup and fry until slightly brown. Deglaze with some broth or red wine and let simmer briefly. Then add seitan, potatoes, mushrooms and the rest of the broth, season with the spices. Cover with a lid and let cook for 15 minutes, stir occasionally.
If the goulash gets too thick add some water. In the end season to taste with salt, pepper and maple syrup and arrange on two plates.