Warm Rice Salad with Oven Pumpkin and Barbecue Tofu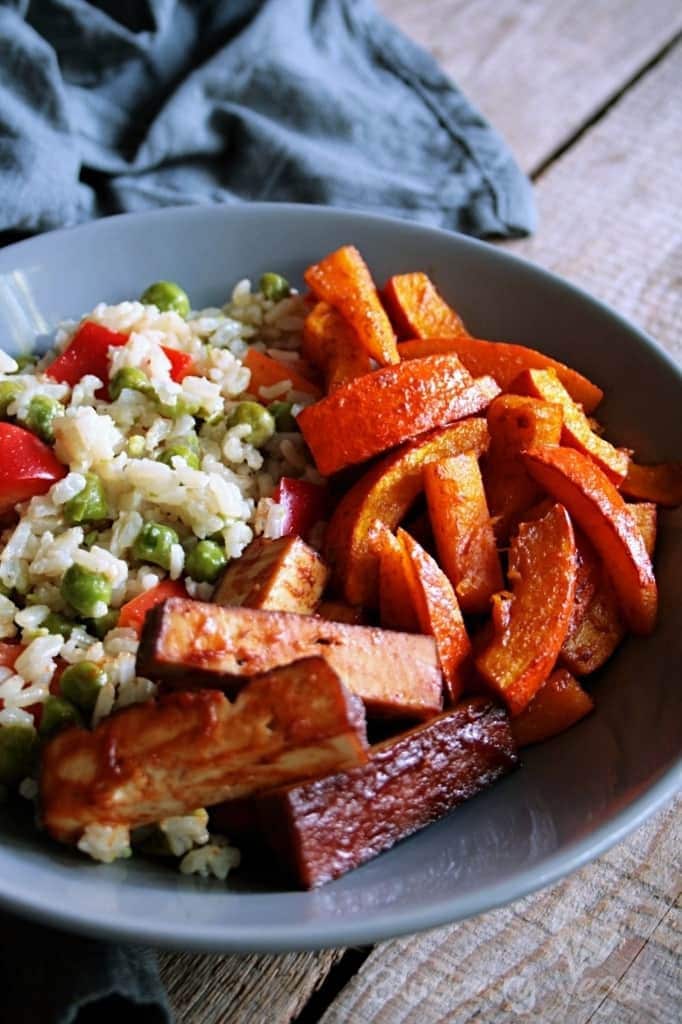 Gang/Type:
Main Dish, Salad
Ergibt/Yield:
3 Portionen
200 g (7 oz) brown rice
150 g (5.3 oz) peas - frozen
1 red bell pepper
1 small hokkaido - about 1 pound
1 pk. smoked tofu
2 tbsp barbecue sauce
2 tbsp oil
1 tbsp herb vinegar
1 tsp lemon juice
salt
pepper
smoked paprika
cumin
Cook the rice in salty water. Add the frozen peas a couple of minutes before it is done. Preheat the oven to 200° C (390° F) and line a baking tray with parchment paper.
Cut the bell pepper and pumpkin in bite-sized pieces. Cut the tofu in sticks and mix with the barbecue sauce. Place on one half of the baking tray. Mix the pumpkin with one tablespoon of oil and season well with salt, pepper, smoked paprika and cumin and lemon juice. Place on the other half of the tray. Bake in the oven for 15 minutes.
Combine rice and paprika and add oil, vinegar, salt and pepper to taste. Arrange in three bowls and add the pumpkin and tofu.
If you like it well-seasoned add a dash or two of soy sauce before eating.
Recipe by
Blueberry Vegan
at https://www.blueberryvegan.com/de/warmer-reissalat-mit-wuerzigem-ofenkuerbis-und-barbecue-tofu/