Vegan Cream Cheese Cake with Crispy Base and Fruit Sauce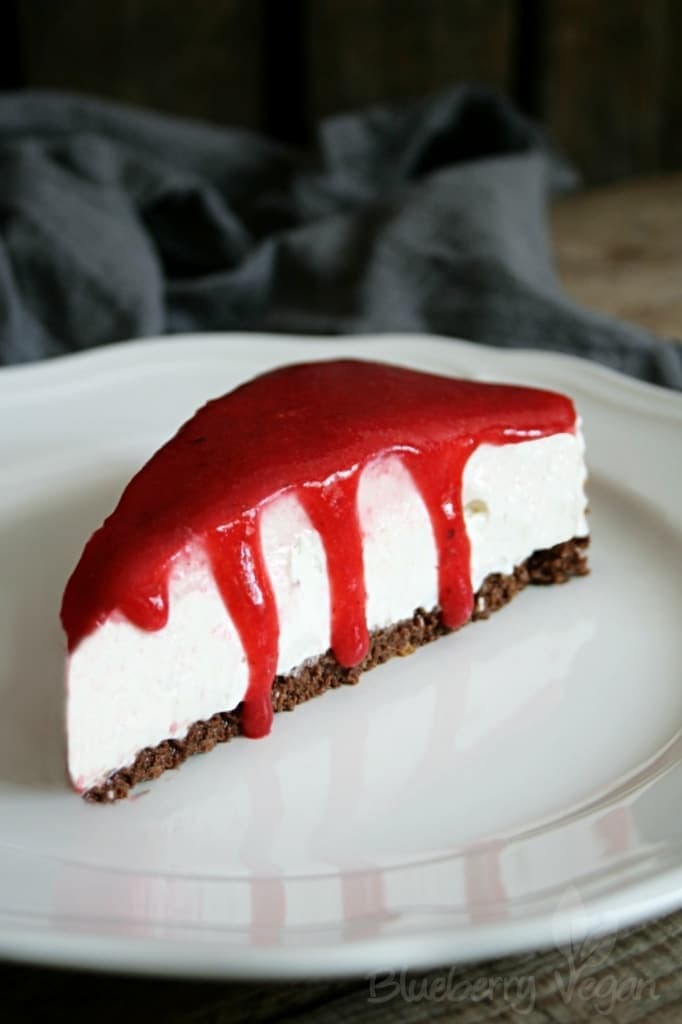 200 g (7 oz) rusks
250 g (8.8 oz) chocolate spread
600 g (21.2 oz) vegan cream cheese
400 g (14 oz) vegan curd
300 g (10.6 oz) soy whip
4 pk. stabilizer for whipped cream
2 tbsp powdered sugar
1 tsp vanilla extract
500 g (17.6 oz) fruits - strawberries, cherries, blueberries, raspberries, mango, peaches or apricots
sugar to taste
1 tbsp starch, slightly heaped
1 pinch ground vanilla
Process the rusks in a food processor until crumbly. Add the chocolate spread and process until combined. Pour the mixture in a springform pan (ø 26 cm / 10 in) and press it on tightly. (A freezer bag as glove prevents the base from sticking to the hand)
For the mousse whip the cream with 2 pk. of stabilizer. In another bowl mix the cream cheese and curd (drain excess water first) with 2 pk. stabilizer, powdered sugar and vanilla extract until smooth. Then fold in the whipped cream and spread evenly on the base. Place in the fridge.
For the fruit sauce puré the fruits, add sugar, if needed and mix with vanilla and starch. Bring to boil and let simmer for one minute. Let cool until lukewarm then pour over the cake.
Keep the cake refrigerated for at least 2 hours before serving.
Recipe by
Blueberry Vegan
at https://www.blueberryvegan.com/de/vegane-frischkaesetorte-mit-knusperboden-und-fruchtsauce/