Winter Bowl with Beetroot, Quinoa and Mache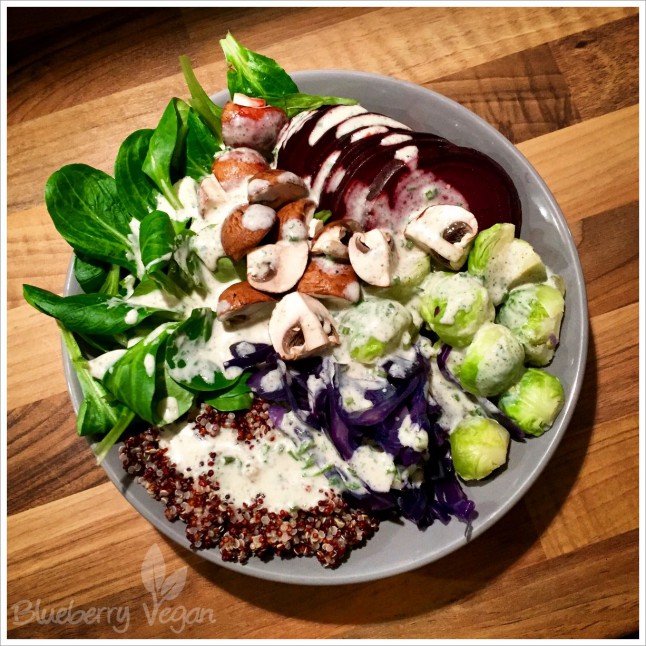 80 g (1 oz) quinoa
1 tbs lemon juice
salt
pepper
2 handful mache
2 tubers beetroot
2 handful brussels sprouts
2 handful mushrooms
2 handful red cabbage
1/2 tsp olive oil
1/4 tsp salt
2 tbs pomegranate seeds - optional
1/4 tsp chia seeds, ground
50 ml (3 tbs) soy milk
25 ml (2 tbs) soy yoghurt
1 tbs herb vinegar
1/4 tsp onion powder
3 capers
1/4 – 1/2 tsp salt
Start with the preparation of the beetroot. Wash thoroughly and cut off the stem. Mix olive oil and salt and rub the tubers with it. Wrap them individually in tinfoil and bake in the oven at 180° C (360° F) for about 40 minutes.
Hence the dressing tastes better, when it can steep, prepare it next. In a blender mix all ingredients until smoothly combined. Chill in the fridge.
Clean and wash the mache, spin-dry it and arrange it on to bowls. Sprinkle over the pomegranate seeds. Cut off the excess leaves of the brussels sprouts and halve them.
Put it next to the finely sliced red cabbage in the steamer. Quarter the mushrooms and put them into the second steamer above the cabbage layer, cover with the lid.
When the beetroot only has 10 minutes left to bake, start preparing the quinoa. Put the quinoa in a sieve and rinse it thoroughly, put it into a pot, add the double amount of water, add the lemon juice, salt and pepper and bring to boil. Place the steamer on top of the pot.
The quinoa is ready, when it soaked up all the liquid. Let it sit while you remove the beetroot from the oven and slice it. Be careful! The steam is hot.
Get the veggies out of the steamer and arrange them in the bowls. Pour over the dressing and serve immediately.
The dressing tastes even better, the next day. So just prepare a double batch and serve it on salad the next day.
Recipe by
Blueberry Vegan
at https://www.blueberryvegan.com/de/winterbowl-mit-rote-bete-quinoa-und-feldsalat/