Chocolate Tartlets with Vanilla Pudding and Fresh Berries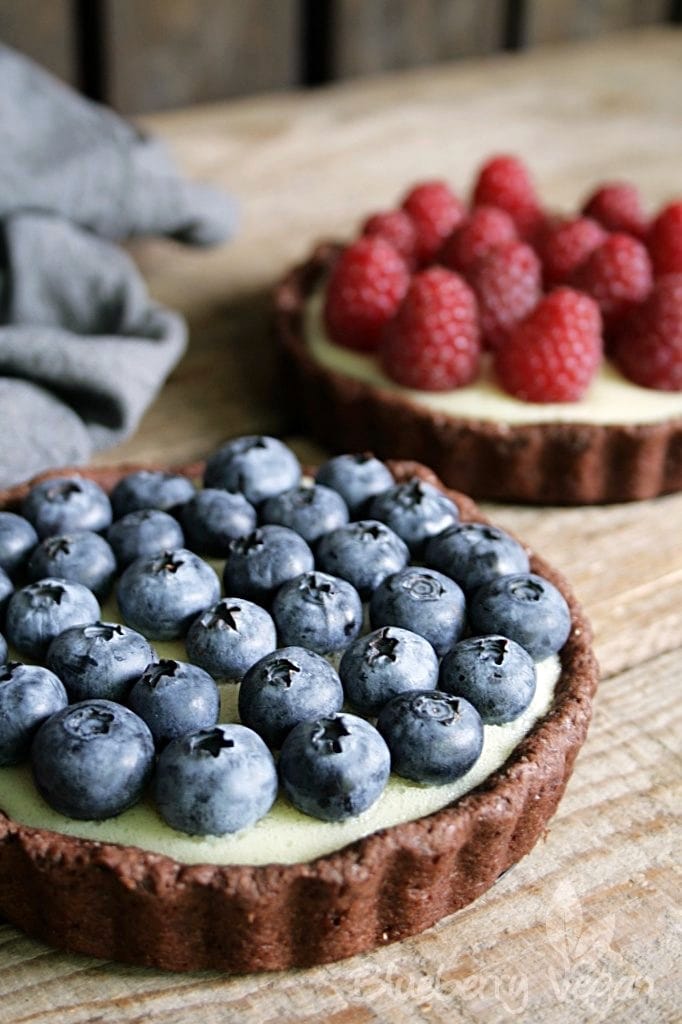 160 g (1 cup) flour
60 g (1/4 cup) sugar
20 g (3 tbsp) cocoa powder
80 g (1/3 cup) vegan butter
1 pinch vanilla
1 pinch salt
1 - 2 tbsp soy milk
500 ml (2 cups) soy milk - Alpro Organic
3 tbsp sugar
1 pk. instant vanilla pudding powder
160 g (1 cup) flour
60 g (1/4 cup) sugar
20 g (3 tbsp) cocoa powder
80 g (1/3 cup) vegan butter
1 pinch vanilla
1 pinch salt
1 - 2 tbsp soy milk
500 ml (2 cups) soy milk - Alpro Organic
3 tbsp sugar
1 pk. instant vanilla pudding powder
1/4 pound blueberries
1/4 pound raspberries
Preheat the oven to 180° C (360° F). Grease four tartlet dishes.
Knead all ingredients for the dough to a smooth dough that doesn't stick. Quarter the dough and flatten every piece and place in a tartlet dish and press on the bottom and the sides. Prick the bottom with a fork several times and bake in the oven for 15 minutes.
Let the tartlets cool down then cook the pudding. Combine all ingredients and bring to boil. Pour the pudding in tartlets and let cool completely.
When the tartlets are cool, arrange the fruits on them and serve at room temperature or keep refrigerated before serving and serve cold.
Recipe by
Blueberry Vegan
at https://www.blueberryvegan.com/de/schoko-tartelettes-mit-vanillepudding-und-frischen-beeren/