Zucchini Brownies with Chocolate Glaze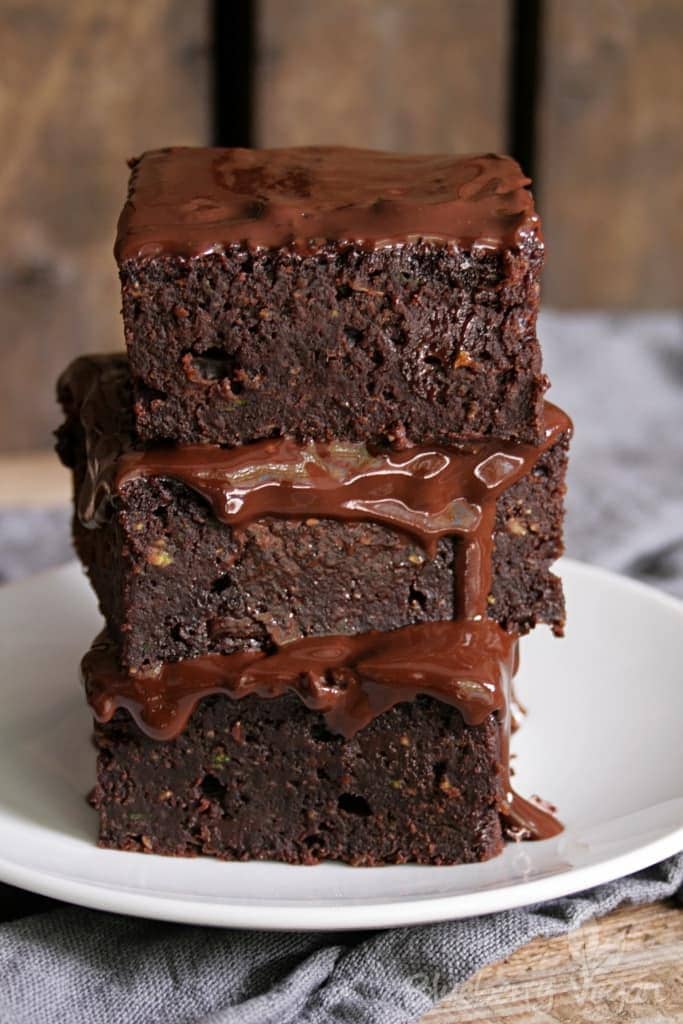 2 tbsp flaxseed, ground
6 tbsp water
160 ml (2/3 cup) soy milk
1 tsp apple cider vinegar
240 g (1 1/2 cups) flour
50 g (1/2 cup) cocoa powder
160 g (2/3 cup) sugar
1/4 tsp salt
1 tsp baking powder
180 g (1 cup) zucchini, seeds removed
60 ml (1/4 cup) neutral tasting oil
2 tsp vanilla extract
100 g (2/3 cup) dark chocolate
100 g (2/3 cup) dark chocolate
2 tbsp coconut oil - alternative vegan butter
1 tbsp agave nectar
1 tsp vanilla extract
Combine flaxseed and water and let jelly. Also combine soy milk and apple cider vinegar and let curdle. Preheat the oven to 180° C (360° F) and grease a brownie baking dish (8 x 8 inches).
In a big bowl combine the dry ingredients. Shred the zucchini with a grater or in a food processor. Finely chop the chocolate.
Combine all ingredients except for the chocolate with a wooden spoon or dough scraper until there are just a few little lumps left. Then fold in the chocolate. Pour into the greased baking dish and bake in the oven for about 35 minutes, until a toothpick comes out clean.
For the glaze in a bain-marie melt the chocolate, coconut oil and agave nectar. Mix well, then add the vanilla extract and combine. Let the glaze cool down until it's lukewarm and then pour over the brownies. Let them cool and then cut into 9 pieces.
Keep the brownies at room temperature for a soft glaze and refrigerate them for a firmer glaze. I ground the flaxseed with my
Personal Blender
.
Recipe by
Blueberry Vegan
at https://www.blueberryvegan.com/de/zucchini-brownies-mit-leckerem-guss/