Fluffy and Tender Butter Knots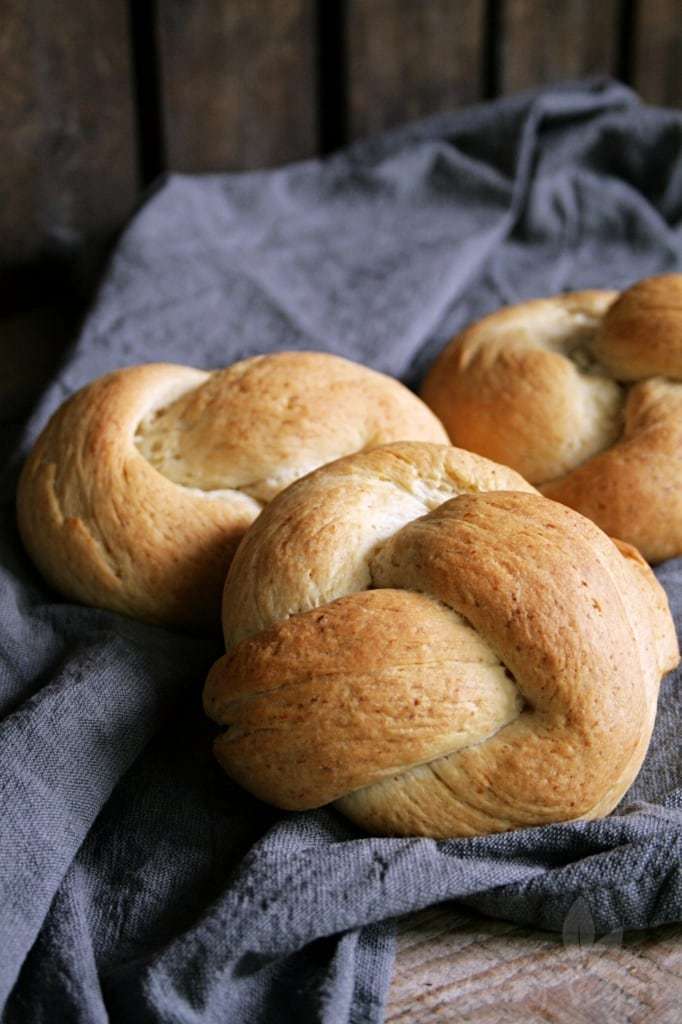 Gang/Type:
Breakfast, Snack
Ergibt/Yield:
4 butter knots
250 g (1 1/2 cups) white flour - spelt or wheat
1 pinch salt
2 tbsp sugar
1 tsp dry active yeast
2 tbsp (golden) flaxseed, ground
6 tbsp water
80 g (5 tbsp) vegan butter
50 ml (3 tbsp) soy milk
1 tbsp vegan butter, melted
Mix the flaxseed with water and let jelly. In a bowl combine the dry ingredients for the dough. Melt the butter and combine with the soy milk. Pour over the dry ingredients and knead with the machine for 5 minutes until soft and well combined.
Cover the dough and let rest in a warm spot for 1 hour. Then knead again. If the dough is too wet knead in a little more flour. Divide the dough into four pieces. Form each piece into a long, 1/2-inch thick rope. Make a knot in each rope and hide the ends underneath. Place on a lined baking tray, cover with a kitchen towel and let rest for 30 minutes.
Heat the oven to 180° C (360° F). Brush the butter knots with some melted butter and place them in the oven, while it is heating. After 15 - 20 minutes the knots should be golden and ready. Remove from the oven and let cool on a cooling rack.
Recipe by
Blueberry Vegan
at https://www.blueberryvegan.com/de/luftig-zarte-butterknoten/