Spinach Sweet Potato Bowl with Fried Chicken Cauliflower and Caesar Dressing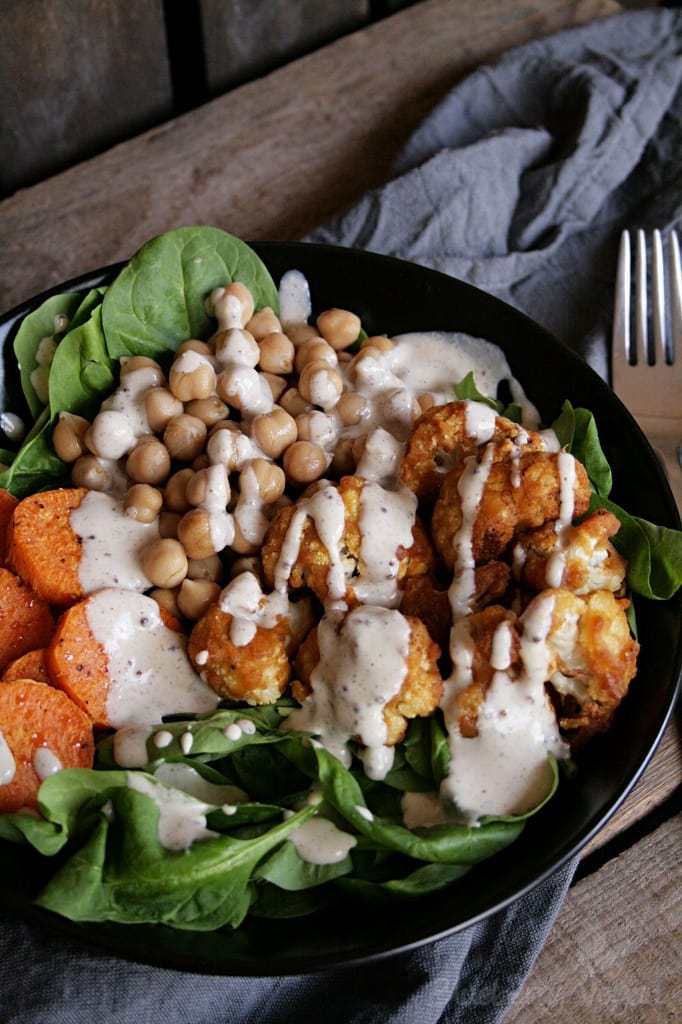 50 g (1/3 cup) cashews
1 tsp chia seeds
1/2 tsp capers
1 tbsp nutritional yeast
1/2 tsp garlic powder
1/2 tsp salt
pepper
120 ml (1/2 cup) non-dairy milk
2 tbsp lemon juice
1/2 tsp maple syrup
2 dashes Worcester sauce
1 tsp grainy Dijon mustard
4 tbsp corn flour - alternative chickpea flour
1 tbsp fried chicken seasoning
salt
pepper
3 - 4 tbsp water
3 hands full cauliflower florets
1 tbsp oil
2 small sweet potatoes
1 tbsp oil
salt
pepper
3 hands full baby spinach
1 small can chickpeas
For the dressing grind the cashews and chia seeds in the Personal Blender. (Alternatively soak the cashews for 2 hours and make the dressing with an immersion blender.) Add the other ingredients except for the mustard and blend until smooth. Then stir in the mustard and season to taste with lemon juice and salt. Let steep in the fridge.
Preheat the oven to 200° C (390° F) and line a baking tray with parchment paper. Combine the ingredients for the fried chicken cauliflower to a mushy paste, season well and toss the cauliflower in it until fully covered, pour on the baking tray and drizzle over some oil.
Peel the sweet potatoes and cut in thick slices. Pour on the baking tray, drizzle over oil and season with salt and pepper. Bake in the oven for 25 minutes. Flip the sweet potato slices once after 15 minutes.
Drain the chickpeas and rinse. Arrange the spinach in two bowls and pour over the oven veggies. Add the chickpeas and drizzle over the dressing.
Recipe by
Blueberry Vegan
at https://www.blueberryvegan.com/de/spinat-suesskartoffel-bowl-mit-brathaehnchen-blumenkohl-kichererbsen-und-caesar-dressing/