Oatmeal Pancakes with Apple Slices and Cinnamon Syrup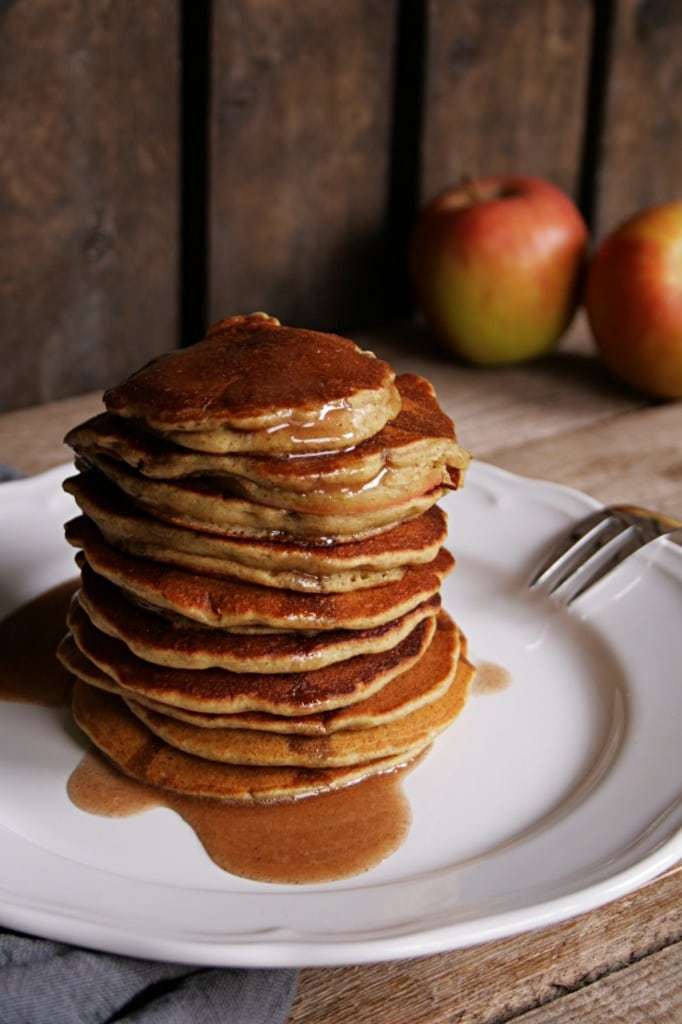 Ergibt/Yield:
1 - 2 Portions
75 g (3/4 cup) oats
1 tsp ground flaxseed or chickpea flour
1 1/2 tsp baking powder
1 tbsp maple syrup
1 tbsp oil
120 ml (1/2 cup) fizzy water
1 tbsp maple syrup
1/2 tsp cinnamon
a few drops lemon juice
1 small apple
a few drops lemon juice
In a blender grind the oats into flour. Mix with ground flaxseed and baking powder, then add the wet ingredients and stir until smooth. Let well for 5 minutes. Cut out the core of the apple and slice it. Drizzle over some lemon juice.
Heat a non-stick pan to medium heat and pour in dough for three pancakes (about 2 tbsp for each pancake). When bubbles appear, add one apple slice to each pancake. Flip when the surface is dry and let brown for one more minute on the apple side. Remove from the pan and pile up on a plate. Do so until all batter is used.
Combine maple syrup and cinnamon and add lemon juice to taste. Drizzle over the pancakes and enjoy immediately.
Recipe by
Blueberry Vegan
at https://www.blueberryvegan.com/de/mueslipancakes-mit-apfelscheiben-und-zimtsirup/