Millet Porridge with Rhubarb Blueberry Compote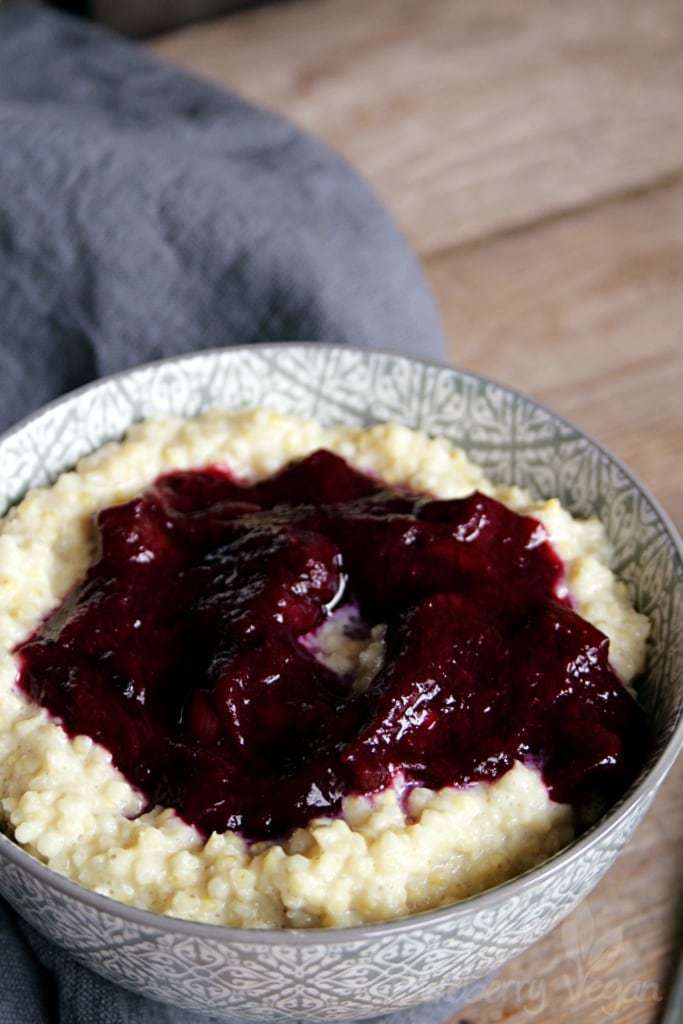 150 g ( 1/3 cup) millet
500 ml (2 cups) almond milk or coconut milk
maybe some agave nectar or maple syrup
4 stalks rhubarb
2 hands full wild blueberries - frozen
about 4 tbsp water
2 tbsp agave nectar or maple syrup - maybe more
1 tsp vanilla extract
Wash the millet under running, warm water, then bring to boil in the almond or coconut milk. If you use unsweetened almond milk, add some agave nectar or maple syrup.
Cook the millet for 15 minutes, then turn off the stove and let well for 10 minutes. If the porridge is too thick, add some more milk or warm water to thin it.
While the porridge ist cooking, make the compote. Cut the rhubarb stalk in pieces, put in a pot and bring to a simmer with some water. Let simmer for 10 minutes.
Then add the blueberries, some more water, the sweetener and vanilla and let simmer for another 5 - 10 minutes, until the rhubarb fell apart. If the compote is too thick, add more water.
Pour the porridge in two bowls and add a generous dollop of compote on top.
Recipe by
Blueberry Vegan
at https://www.blueberryvegan.com/de/kerniges-hirseporridge-mit-rhabarber-blaubeer-kompott/