Vegan Sushi - Maki with Shiitake, Avocado and Cucumber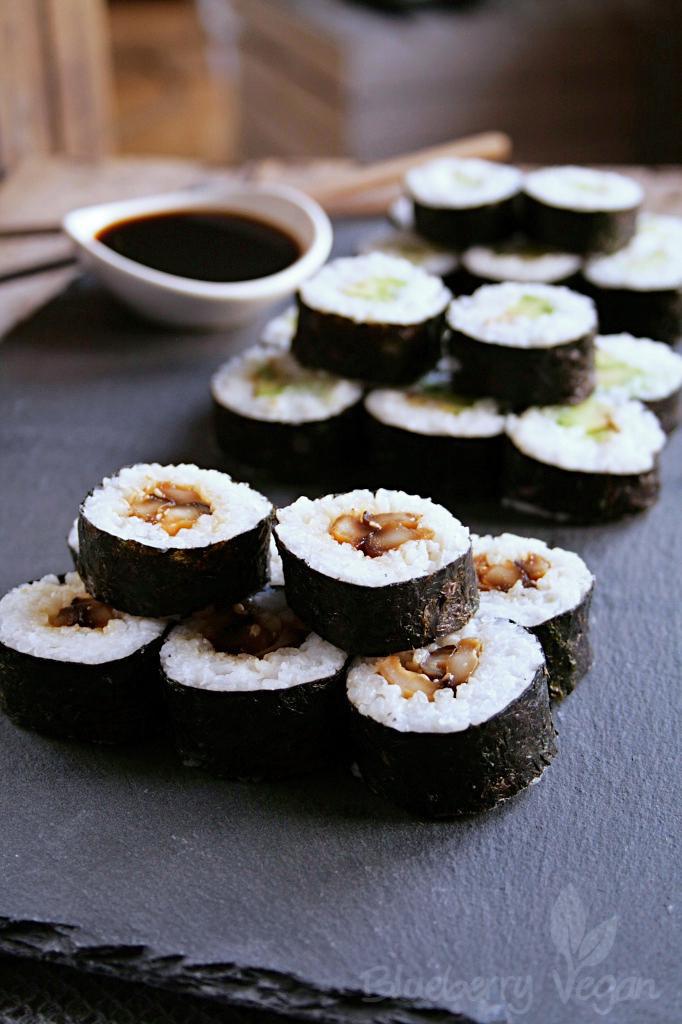 1 cup (240 ml) short grain rice
2 cups water
1 1/2 tbsp rice vinegar
1/2 tbsp mirin
1/2 tsp salt
1 tsp sugar
2 big shiitake mushrooms
1 tbsp soy sauce
1 tbsp mirin
1 tbsp sugar
1/4 avocado
1/4 cucumber
3 tsp sesame
3 sheets nori
wasabi
pickled ginger
soy sauce
Wash the rice in a fine sieve under running water until the water stays clear. Transfer to a rice cooker, add the water and cook.
Or place with the water in a pot, bring to boil and let simmer with the lid on for 10 minutes. Then turn of the stove and let well for another 10 minutes until all water is absorbed and the rice is done.
While the rice is cooking, pour rice vinegar, mirin, salt and sugar in a screw top jar and shake until sugar and salt have resolved. Pour over the warm rice and fold in. Don't stir, it squashes the rice. Let cool completely.
Cut off the stalks of the shiitake and slice the heads in 0.20 inch-thick slices. Pour in a pot with the other ingredients and bring to boil. Let simmer until all liquid vaporized, let cool.
Peel the avocado and slice in 0.20 inch-thick slices. Also cut the cucumber in 0.20 inch-thick sticks, remove the seeds.
And now it's time to roll the sushi. This is how you do it:
○ Place a sheet of nori on the bamboo mat with the shiny side down.
○ Spread the rice on 2/3 of the nori sheet and press it on. It should be 0.20 inches thick. A bowl of water helps keeping your hands wet, so that the rice won't stick to your hands.
○ Place the desired filling in the middle of the rice. Don't overfill!
○ Hold the filling with your fingers while you roll up the mat. Roll up until the rice edges touch.
○ Press the roll with the mat to tighten the roll. Make sure, the rice edges are touching.
○ Wet the rest of the nori sheet with water and roll up. If there are dry areas in the roll, wet them, too.
○ Let the roll rest for a couple of minutes while doing another one.
○ Take a sharp (!) knife and halve the roll in the middle. Do so two more times to get 8 equal maki.
Arrange the makis on a plate and serve with pickled ginger, soy sauce and wasabi. Eat with chopsticks or your fingers.
Recipe by
Blueberry Vegan
at https://www.blueberryvegan.com/de/veganes-sushi-maki-mit-shiitake-avocado-und-gurke/