Spätzle with Wild Garlic Pesto and Oven Tomatoes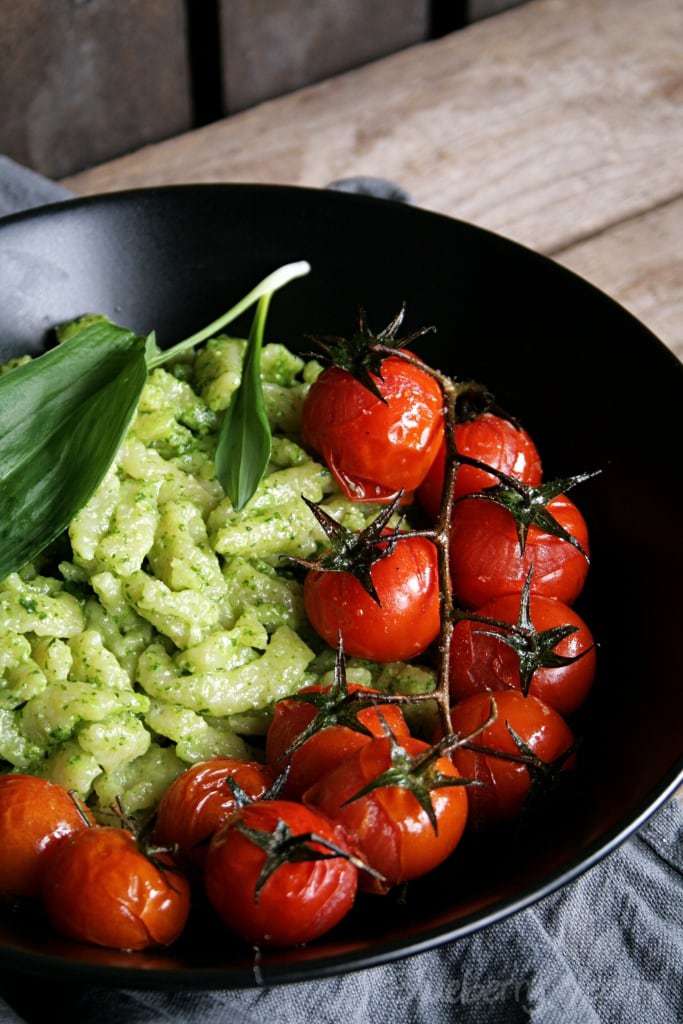 60 g (2.1 oz) wild garlic
30 g (1 oz) cashews
5 g (1 tbsp) nutritional yeast flakes
5 g (1/2 tsp) salt
60 g (2.1 oz) oil
2 branches cherry tomatoes
olive oil
salt
160 g (1 cup) flour
2 tbsp soy flour or chickpea flour
1/2 tsp salt
180 ml (3/4 cup) water
Weigh all ingredients for the pesto in a food processor and process until desired consistency.
Combine the dry ingredients for the spätzle in a big bowl, add the water and beat with a wooden spoon until a smooth, but sticky dough forms (I hope you have some muscles in your arms). Let rest for 10 minutes.
Place the tomatoes in a baking dish, drizzle over some olive oil and sprinkle with salt. Set in the oven and turn it on to 180° C (360° F) circulation. After 15 - 20 minutes the tomatoes should have bursted and be ready.
While the tomatoes are baking, make the spätzle. Bring salty water in a big pot to boil and press in the batter with a potato press or use a spätzle board to scrape it in. After 2 - 3 minutes, depending on the size, the spätzle are ready. Remove from the water with a skimmer and pour in a bowl.
Mix two tablespoons of pesto with the spätzle and arrange on two plates. Add a branch of tomatoes to each plate and serve.
Recipe by
Blueberry Vegan
at https://www.blueberryvegan.com/de/spaetzle-mit-baerlauchpesto-und-schmortomaten/